80% of European women believe that aesthetic beauty treatments are acceptable investments.
Merz Aesthetics releases further intriguing insights uncovered by its 'Face Value' Beauty Report. Four out of five surveyed European women think that it's 'the norm' to spend money on aesthetic procedures like dermal fillers, botulinum toxins, and laser treatments to maintain their looks as they grow older. No longer just reserved for the super-rich or Hollywood elite, two thirds of the respondents admit that they will have a procedure at some point in their adult lives.
These key findings revealed as part of the comprehensive study of almost 3,000 women from across France, Spain, Italy, Russia and the UK remarkably show just how much attitudes toward aesthetics procedures are changing.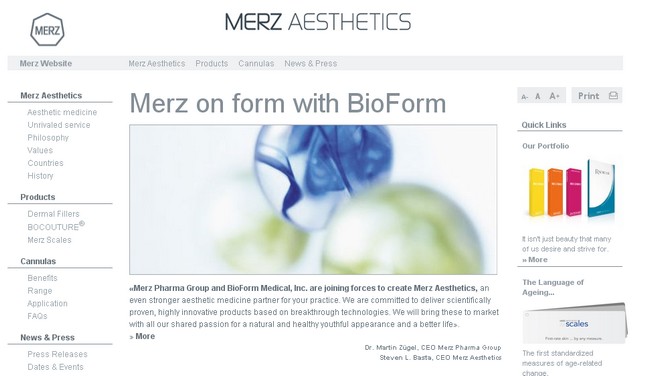 The detailed 'Face Value' report explores all aspects of the aesthetic beauty procedure market, everything from attitudes toward cost to the necessity for clinically-tested safety and one of the most arresting research areas looks at the lengths women will go to in order to get the treatments they want. Despite the fact that economists predict that we are in a continued recession, 29% of women with experience in using facial injectables admit they would buy fewer or cheaper groceries to pay for a treatment while 31% say they would seek out a second or better paying job.
And the reason for all of this? Unsurprisingly, it is skin imperfections and the dreaded, age-accentuating wrinkles that are the things women would like to change most when it comes to their faces. Of the 53% that admit to already having wrinkles, 62% have actively sought out treatments to reduce their appearance and keep clear and crevasse-free complexions.
All of the above feeds into a new found notion that beauty can very much be controlled – in the process dispelling old assertions that when it comes to our looks we have no choice but to settle for what we've got. Similarly, the idea that having aesthetic procedures is overly vain seems to be becoming antiquated, too. The data reveals how:
80% of women think beauty is under each person's control and can be shaped or enhanced (an important fact given 95% would like to improve or alter one or more of their facial features)
Over two thirds of women (69%) do not think it's superficial in any way to have an aesthetic procedure
Nearly one half of women (45%) now consider aesthetic procedures to be a necessity and not a luxury.
Commenting on the findings, Pat Altavilla, Vice President, Global Marketing, Merz Aesthetics said, "Women are and always have been under a lot of pressure to look their best. There are numerous things they can do to maintain their appearance and having aesthetic procedures with injectables is just one option – what's refreshing though is that the stigma surrounding them seems to be disappearing. Facial injectables have already helped millions of women deal with their wrinkles, and we believe that figure will continue to rise as more women appreciate the positive effects of investing in this form of beauty maintenance.
via Merz Aesthetics