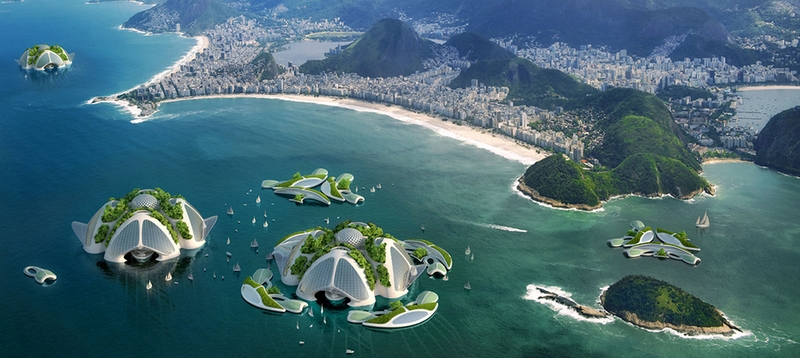 Aequorea underwater "oceanscrapers", the 3D-printed floating villages designed by the brilliant Belgian architect Vincent
Callebaut, could be a glimpse to our future energy independence. Vincent Callebaut imagined "Oceanscrapers" 3D Printed from Recycled Trash, futuristic villages located on the shores of Rio de Janeiro. The project will extract value from the disgusting soup of petroleum-based waste by recycling it.
In the 20th Century, on Earth, every human being was producing up to ten times their weight in garbage annually. Two hundred and sixty-nine million tons of plastic waste with a life expectancy of a thousand years were thus produced every single year, and more than 10% of it were ending up in the oceans.
Callebaut's Aequorea is a genuine underwater village printed in 3D from algoplast, a composite material of the future that mixes algae with garbage from the 7th continent. You know, the 7th continent? That infamous soup of plastics formed at the beginning of the century in the heart of the five main ocean gyres, where the Coriolis effect causes the currents to swirl.
In fact, Callebaut invented a new underwater urbanization processes that could be energy self-sufficient, willrecycled all waste, and will fight ocean acidification. Indeed, even if the oceans absorb 22 million tons of carbon dioxide from the atmosphere every day, mankind with its excesses of CO2 emissions had saturated them, and their pH had destabilized all ecosystems.
Aequoreas will self-build through eco-friendly, natural calcification, in the same way sea shells do — by fixing the calcium carbonate contained in water to form an external skeleton. These are genuine blue carbon wells shaped like twisted towers 1000 meters (3280 feet) deep. By using aragonite (which has a high carbon component) as the construction material for its transparent façades, an Aequorea can fix 2,500 tons of additional CO2 per square kilometer (250 acres) annually.
Each Aequorea village can welcome up to 20,000 aquanauts. Their main access is on the water surface, through four marinas covered with a mangrove rooted on a floating dome 500 meters (1640 feet) in diameter. Modular living, co-working spaces, fab labs, recycling plants, science labs, educational hotels, sports fields, aquaponic farms and phyto-purification lagoons stack up layer by layer. The twisting of the towers is ultra-resistant to hydrostatic pressure. Its geometry allows it to fight marine whirlpools and thus reduce motion sickness. Its double shell accommodates the ballasting. Once filled with seawater, the ballasts lower the Aequorea's center of gravity to counteract the Archimedean buoyancy. They guarantee stability in the event of a storm or an earthquake. The double shell's thickness increases from the sea surface downwards, to compensate for the strain caused by the increase in pressure.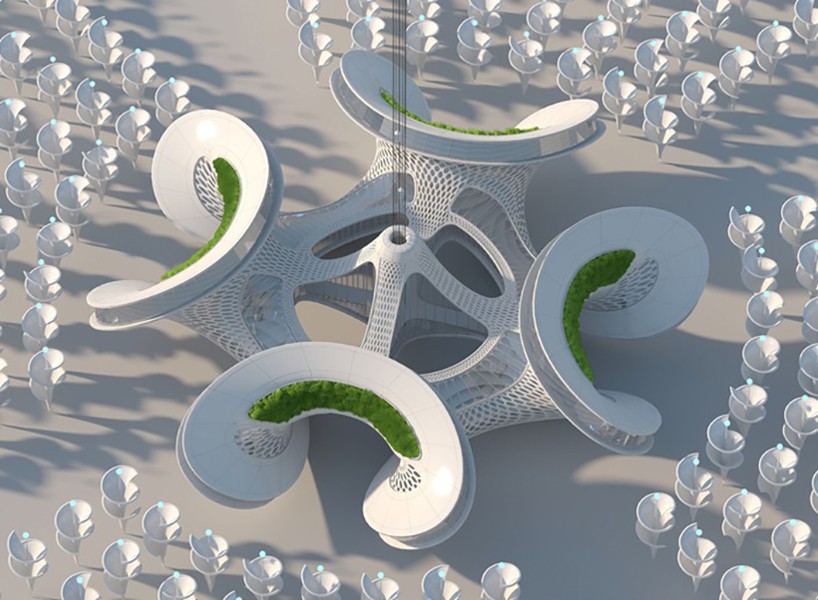 There's no more need for coal, oil, gas or nuclear energy to get light: Aequorea reproduces bioluminescence in the double glazing of its apartments, thanks to symbiotic organisms that contain luciferin which emits light through oxidation. On the ocean floor, a field of water turbines, shaped like volutes and laid out in a star pattern around an abyssal scientific base, turn the sea currents into electric energy. An ocean thermal energy conversion (OTEC) power plant completes the panel of energy supply. Located in the central vertical axis, it uses the difference in temperature between the warm surface water and the cool water pumped deep down to produce continuous electricity.
In order to produce drinking water and fresh water for aquaculture, the OTEC power plant uses the in-depth pressure to counteract the osmotic pressure, and to separate the water from the salt via a semipermeable membrane. Air is renewed either naturally by convection through wind chimneys innervating the four branches of each tower's twist, or by the oxygen station via seawater electrolysis.
For heating and climate control, Aequorea no longer uses fossil fuels. Rather, it uses microalgae grown in aquarium walls, which absorb the carbon dioxide produced by people's breathing. These green-algae-based bioreactors also recycle the liquid or solid organic waste, and produce energy through photosynthesis and biomethanation.