Luxury automotive brands take inspiration from all walks of life. Working with creative teams outside of the automotive industry helps to broaden the designers' minds.
During London Men's Fashion Week, Aston Martin and Hogan, a luxury brand part of the Italian group of luxury products
Tod's, are announcing a new partnership that will see the two luxury brands collaborate on an exclusive 'Aston Martin
x Hogan' limited edition luxury sneaker for the Autumn Winter 2017/ 2018.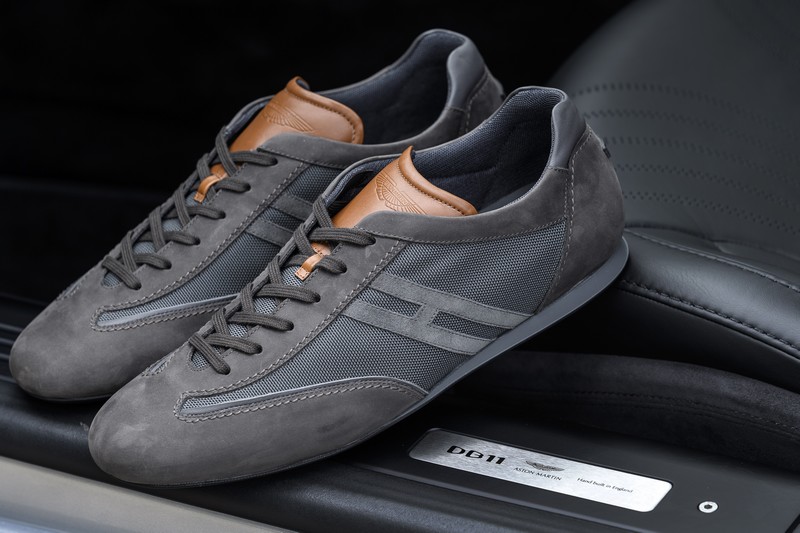 Limited to a run of 3,000 pairs, the 'Aston Martin x Hogan' exclusive collection will be available from the end of
June.
Aston Martin's modern and sophisticated aesthetic combines with Hogan's beautiful Italian construction for this unique
line of shoes. Based on an iconic Hogan design named 'Olympia', and offered in four seasonal colours, the palette is
versatile. Leather is paired with nylon mesh to create a look that is as casual as it is smart.
The exclusive sneaker reflects the elegance of the silhouette of an Aston Martin sports car and includes detailing from Aston Martin's artisan leather craft. Applied to the exterior of the shoe, layers of leather create a wave of beautiful colours and materials that are sewn with exquisite attention to detail.
The tongue of the sneaker is cut from Aston Martin's classic kestrel tan leather with pinched seam detailing and feature the iconic Aston Martin wings. Each 'Aston Martin x Hogan' sneaker is crafted to the same high standards that are expected by customers of the luxury British marque's sports cars and those of the Italian master of casual-luxury shoes.