AC/DC are to release their extremely limited AC/DC Platinum Shiraz one-off wine.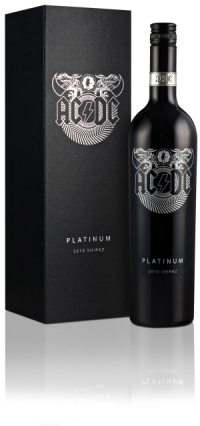 Two years in the making and the new extremely limited AC/DC Platinum Shiraz is ready to rock. The second wine of the veteran rock band AC/DC (formed in 1973 by Scottish-born brothers Malcolm and Angus Young) is a super-premium 2010 Barossa Valley Shiraz from low-yielding, long-established vineyards that has been matured in American oak barrels for two years, according to Australian theshout.com.au
In 2011, the Australian rockers teamed up with Warburn Estate and Woolworths to release their own range of AC/DC branded wine.
"After the global launch of AC/DC The Wine in Australia, it's very fitting that the heartland and point of origin for AC/DC is the market that has access to the extremely limited AC/DC Platinum," said Francis Fusca, executive director of sales and marketing at Warburn Estate.
"To put together something like this – the rarity, the collectability and the never seen before packaging – has been a labour of love for everyone involved.
"AC/DC Platinum is definitely at the forefront of wine packaging in this country. The hardest part is for the fans who will miss out – this product could be considered one of the rarest memorabilia seen out of the AC/DC stable."