A. Lange & Söhne – The perfect sound of time or how to experience the sound and mechanism of the decimal minute repeater.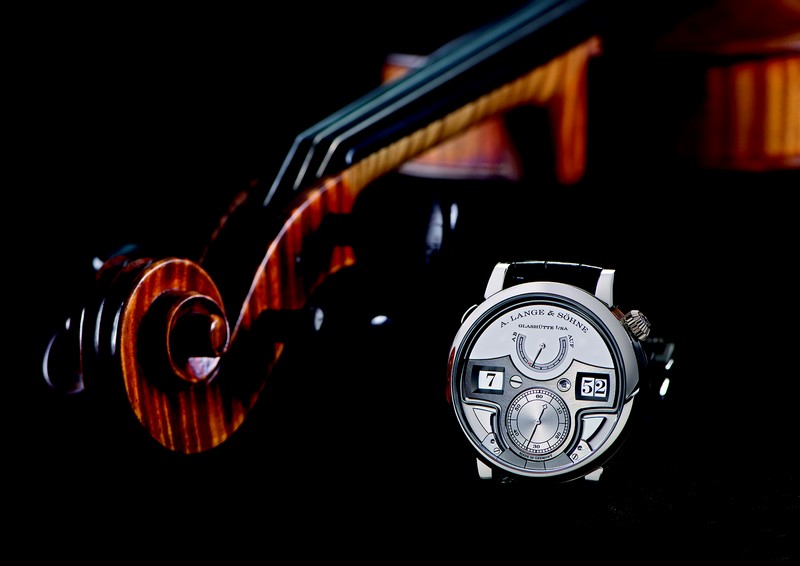 The 2015 Zeitwerk Minute Repeater watch unveiled by celebrated Swiss luxury watch manufacture A. Lange & Söhne for its 200th anniversary celebrates musical harmony, the perfection of sound, and the musical instruments crafted in Saxony for centuries, especially around the town of Markneukirchen in the Vogtlandkreis district.
As A. Lange & Söhne's master makers intended, the new horological work of art achieves perfect sonority offering an exceptional music experience.  The new timepiecs is a fine-tuned mechanical musical instrument for the wrist where what you hear is what you see (see the movie above with the working principle).
"In a chiming watch, as in musical instruments, the physical laws that govern acoustic phenomena are key to achieving sounds of superior quality and reverberant volume. The case material, the size and shape of the gongs, the way they are secured to the movement, the number of moving parts – every detail counts," says A. Lange & Sohne. The mechanism chimes a low-pitched tone for each hour, a double tone for each elapsed ten-minute period, and a high-pitched tone for each elapsed minute. The time as sounded corresponds exactly to the time as displayed.
Special measuring technologies and a musically trained ear are essential in the development of a minute repeater for optimising the individual acoustic parameters down to the finest of nuances. It begins with loudness. The volume of the sound must be perceptible but not overbearing. Its fullness and purity must be compelling to the connoisseur. The rhythm and cadence of the sounds should express pleasant musicality. The gongs must harmonize perfectly with one another. All the while, any chatter of the striking mechanism must be reduced to the absolute minimum.
"It was a formidable challenge for Lange's product developers to fulfil all of these criteria," added the team.
As is commonplace for high-end musical instruments, the gongs are tuned exclusively by hand until they thoroughly harmonise with each other. In the end, they both sound full and pure.
After its debut at this year's SIHH, the 2015 Zeitwerk Minute Repeater has now been awarded the first prize at the "Premio Tiempo
de Relojes 2015" in the category for high-complication watches – "Alta complicación".