Christie's Green Auction's Highest Bid Raises $150,000 for a Sail Aboard Hemisphere — the World's Largest Luxury Sailing Catamaran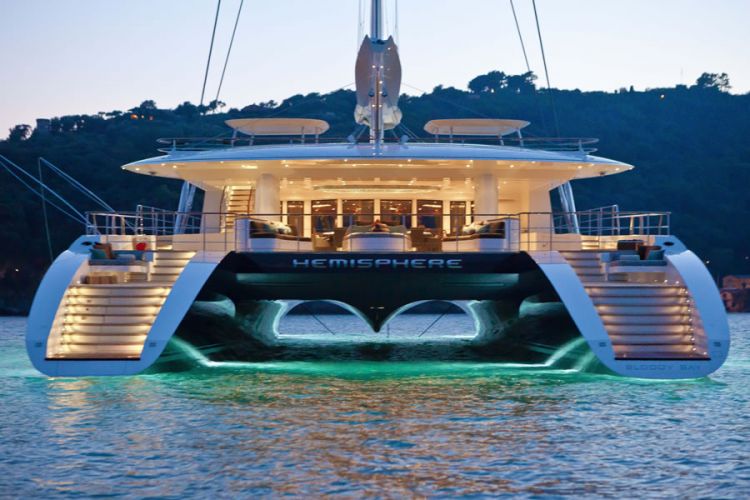 Green Auction at Christie's attracted a powerhouse crowd all gathering to raise money for critical environmental causes. The highlight of the event was the heated bidding for a seven- day sail aboard HEMISPHERE — the world's largest luxury sailing catamaran — which fetched $150,000, the highest bid ever achieved in the history of A Bid To Save The Earth, for a charter package valued at $245,000 offered by superyacht specialist BURGESS, courtesy of the owners of the magnificent 145ft "supercat."
It is hoped this new record will set a benchmark for future environmental fundraising efforts. The nonprofit Oceana, which is supported by BURGESS in its mission to protect and restore the world's oceans, will receive 100% of the funds raised from the Hemisphere auction.
Launched just six months ago, Hemisphere makes her yacht charter debut in the Mediterranean this summer, and the winning bidder can choose either the magical cruising grounds of Croatia or the dreamy Caribbean. Both are fantastic destinations and present an incredible opportunity to explore and dive in some of the most beautiful waters on the planet, and Hemisphere's innovative design is perfect for accessing shallow, secluded coves and bays off the beaten path.
Ten to twelve sailing enthusiasts will have a once-in-a-lifetime opportunity to experience the thrill of Hemisphere, a design masterpiece that sets a new benchmark for luxury charters, with a crew of 10 including a gourmet chef and state-of-the-art accommodations.