Reverberation – Pavilion of Light and Sound. A grid of light created by more than 90,000 makeup pallets.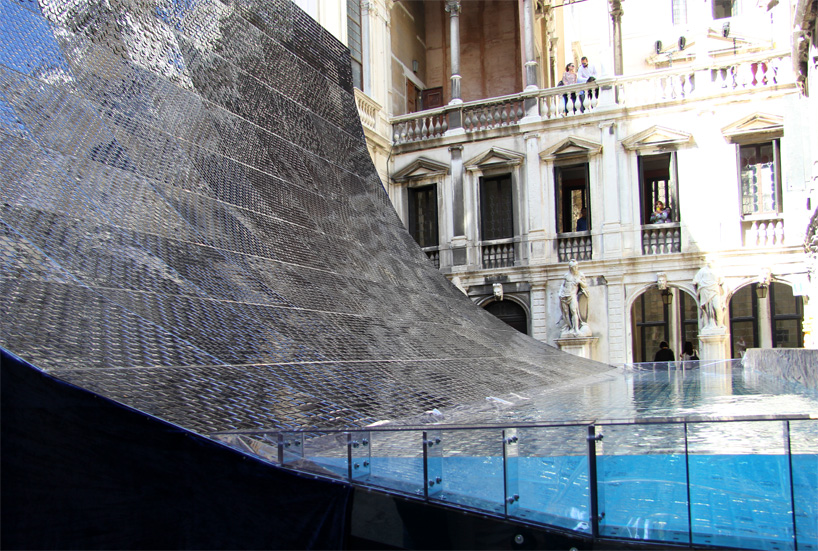 For the Vernissage of the 56th Venice Biennale, Shiseido Group's high prestige brand "cle de peau BEAUTE" unveiled "REVERBERATION – Pavilion of Light and Sound" designed by renowned architect Shigeru Ban.
The pavilion was located at the historic Palazzo Pisani, where it covered the Large Courtyard. Measuring 16 meters by 9 meters, and 9 meters tall, the pavilion had an architectural form that describes a smooth arc.
In creating the pavilion, Shigeru Ban was inspired by the "Lights of Venice" theme of cle de peau BEAUTE's 2015 Autumn/Winter Collection. Light filtering through makeup cases used in constructing the exterior walls combined exquisitely with vibraphone, violin, flute and other music floating through the pavilion performed somewhere by live musicians.
The lighting design for the pavilion is by Akari-Lisa Ishii, and acoustic consultant Daniel Commins handled the sound design. Ishii and Commins, both based in Paris, recently teamed up with Ban on the Centre Pompidou-Metz. The music program for the pavilion was coordinated by Keiko Mitsuhashi, an exciting young conductor based in Venice.
"Fusing the contradictory elements of the historic building and contemporary pavilion design, the project could only have been achieved at this venue," explained cle de peau BEAUTE. "The unique pavilion space enables visitors to experience the mysterious light and shadows of Venice in conjunction with musical performance. At the same time it incorporates and communicates the cle de peau BEAUTE brand's forward-looking message."
cle de peau BEAUTE is also sponsoring the MIT List Visual Arts Center, which is the presenting organization for the U.S. Pavilion at the 2015 Venice Biennale.