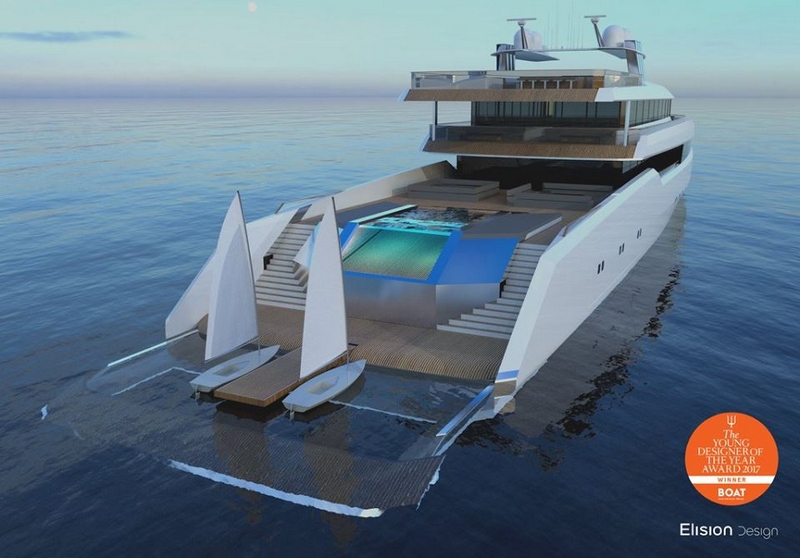 The two winners of the Young Designer of the Year 2017 are Student Designer, Thibaud Le Merdy, and Professional Designer, Eric Laurent. For the first time the young designer accolade was split into two categories: students and young professionals. Thibaud Le Merdy's design was chosen as the best from the student category, while Eric Laurent came out on top in the professional category.
Boat International's judging panel complimented Eric Laurent on the mix of hand-drawn sketches and CGI renderings for his concept Hearsay, which were described as "practical, detailed and accomplished."
Eric Laurent describes his project Hearsay with his own words: "Hearsay is a unique and sleek yacht, designed to be extremely comfortable and fun while being as unobtrusive as possible for the environment and the people she meets."
Every part of this yacht has been thought to be comfortable and entertaining as well as extremely functional. Her tenders were designed to meet the perfect functionality for each dedicated uses and to be ambassadors of the mother ship. There for the design of those two tenders are a reflection of the mother ship's style and spirit.
The Limo tender was designed to be a VIP transport with exclusive access and comfort where the SU Tender (Sport & Utility Tender) was designed to be multi-purpose.
Exquisite day-cruiser it can be reconfigured for extreme crew utilities.
About the Young Designer of the Year Award 2017
This year's task required all entrants to create an 80 metre concept and two tenders — one for general use and one to serve as a limousine. The judging panel revealed that picking the winners was particularly difficult, adding: "This year's entries were of an extremely high standard. All displayed excellent design talent as well as a broad understanding of superyachts."
This year for the first time, this competition has been divided into two categories that are intended to separate the experience levels of students of design from those competitors who have finished their studies and are employed as a designer or as an intern designer within the yachting industry.
The categories are:
Student Designers. This category is for students of design currently in full-time or part time studies, who have on no occasion been in paid employment in yacht design. The age restrictions specified in the eligibility paragraph, above, remain in place.
Professional Designers. This category is intended for designers who have completed their studies who are now in paid employment within the yachting industry. The age restrictions specified in the eligibility paragraph, above, remain in place.