The New more dynamic & efficient Porsche Cayenne.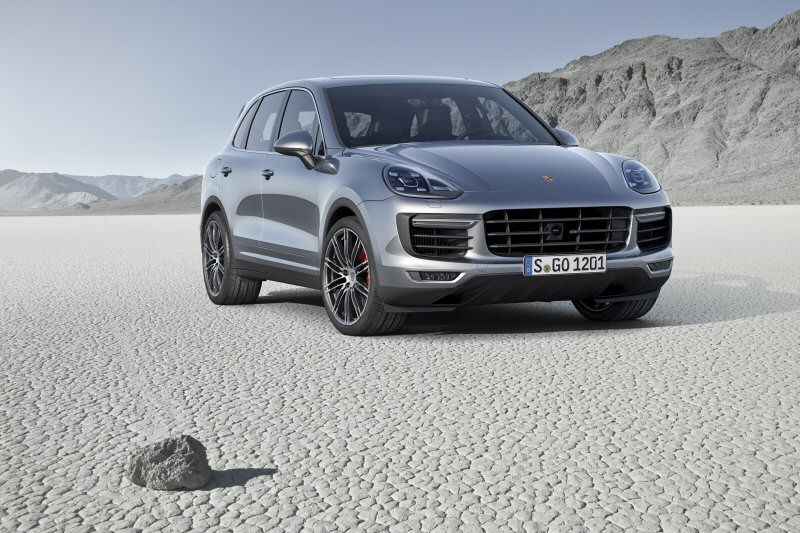 The Cayenne is a unique success story at Porsche. The company introduced the first generation in 2002. This vehicle made the idea of a sports car in the SUV segment a reality – and it set standards right from the start. The New Porsche Cayenne unveiled at the end of July is offering seating for five, an extensive list of highend features, increased efficiency and plenty of space.
The new Cayenne was launched in four versions: Cayenne Diesel, Cayenne S, Cayenne Turbo, and – a world premiere – the Cayenne S E-Hybrid, the first plug-in hybrid in the premium SUV segment. This model, along with the Panamera S E-Hybrid and the 918 Spyder, make Porsche the world's only carmaker to offer three plug-in hybrid models. The Cayenne S benefits from a new 3.6-litre V6 bi-turbo engine.
The design of the front body, the front fenders and the hood are all new. So are the air blades: These fins on the right and left of the vehicle's front end efficiently guide cooling air to the intercoolers.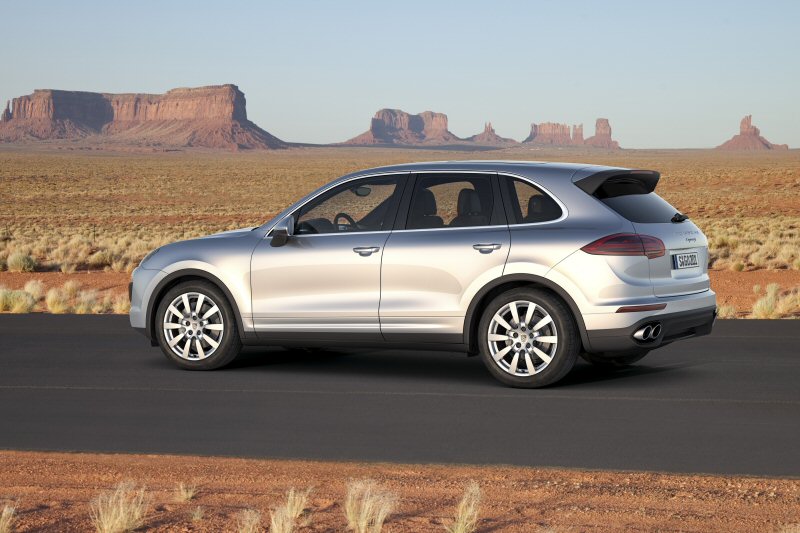 The new Porsche-developed 3.6-litre V6 biturbo engine of the Cayenne S returns fuel consumption figures between 9.5 and 9.8 l/100 km, according to the NEDC. This represents one litre less than with the previous V8 engine. The new twin-turbo V6 develops 420 hp 6,000 rpm – a gain of 20 hp. A total of 406 lb-ft of torque (+ 37 lb-ft) is available from 1,350 to 4,500 rpm. The power density per litre of displacement is now 117 hp, a nearly 40 percent gain. With its standard eight-speed Tiptronic S transmission, the Cayenne S accelerates from 0 to 100 km/h in just 5.5 seconds (5.4 with the Sport Chrono package) – 0.4 seconds faster than the previous Cayenne S. The vehicle's top speed is now 259 km/h (gain of one km/h).
The Cayenne S E-Hybrid is the first plug-in hybrid in the premium SUV segment. Compared to the previous Cayenne S Hybrid, the new model has a 10.9 kWh lithium-ion traction battery, which enables an all-electric driving range of 18 to 36 km. The electric motor power was more than doubled: from 47 hp to 95 hp. The combined fuel consumption is now 3.4 l/100 km according to the NEDC. The three-litre V6 supercharged engine (333 hp) and the electric motor (95 hp) produce a combined system power of 416 hp at 5,500 rpm and a total system torque of 435 lb-ft from 1,250 to 4,000 rpm. Acceleration from 0 to 100 km/h is accomplished in 5.9 seconds to a top speed of 243 km/h. The top speed in all-electric driving is 125 km/h. The traction battery can be charged from the electric power grid or while driving.