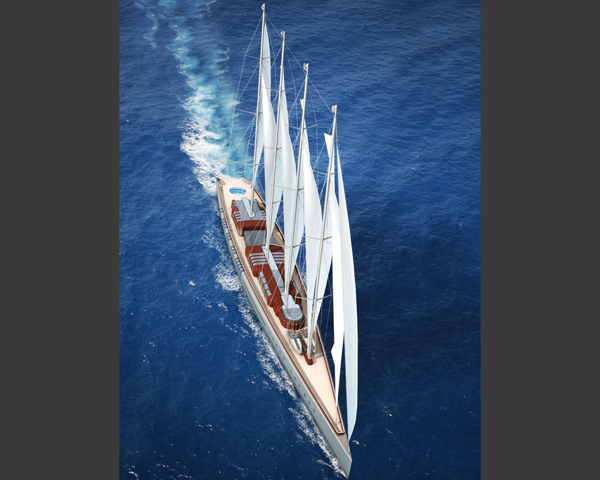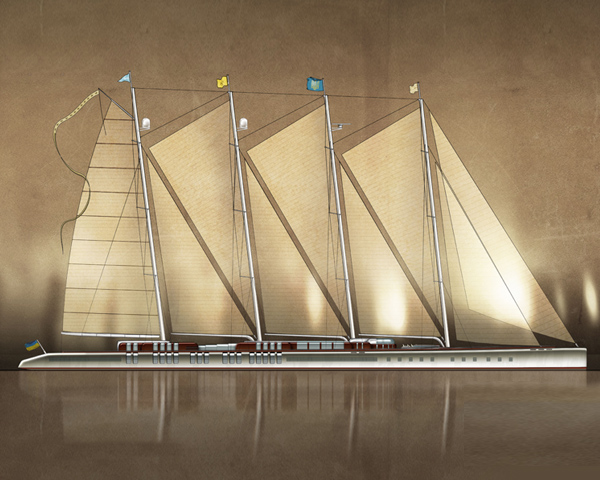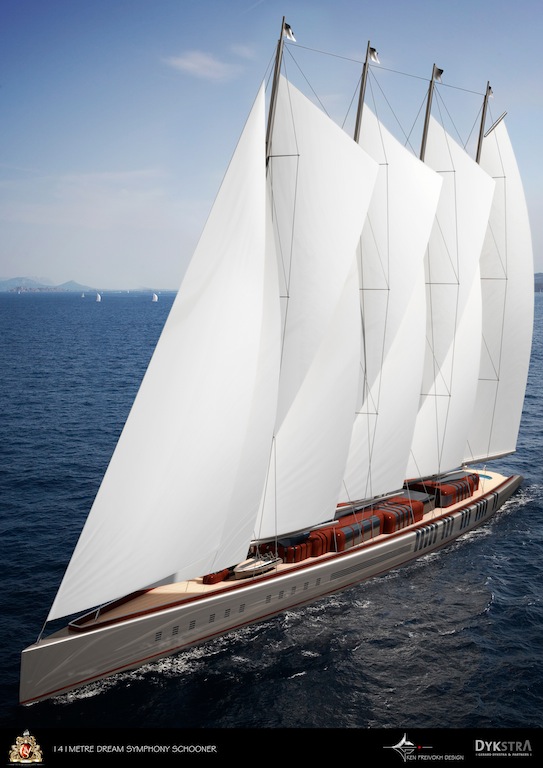 A quite extraordinary yacht, building in wood to achieve quite unique characteristics, Ken Freivokh Design's 141 m Dream Symphony megayacht will be without exception the largest privately sailing yacht in the world.
"Dream Symphony" is the brainchild of Valeriy Stepanenko, the owner of the Dream Ship Victory's yard in Bosburun, Turkey. Bringing together the same team that designed "Maltese Falcon", Symphony is also unique in that the total hull is built in wood, and the rig includes a high tech version of the unique Hoyt booms for maximum control.
The four masted schooner includes some very unique features, like a large sliding roof over the central guest cockpit to ensure that it can be used all year round irrespective of the weather, an all glass swimming pool bringing light and interest to the gymnasium, with a rising swimming pool platform which, when up, extends the available deck space for receptions and events, as well as becoming an integral part of the helicopter landing platform.
Symphony megayacgt has been designed to provide the owner with a totally private deck house. Owner facilities have been developed as a duplex, with private circulation between the accommodation flat and the saloon and office facilities at main deck level. A sheltered open deck between the owner quarters and the guest deck house can be fully enclosed when weather dictates, with automatic sections which run in concealed channels.
Totally separate owner quarters include sauna and massage rooms. In addition to utility and rescue tenders, Symphony also carries open and closed 10m Pascoe limousine tenders. Keel and frames will be completed at Dream Ship Victory's highly impressive new shipyard in Bozburun, Southern Turkey, while the external styling and interior design are signed by Ken Freivokh Design, naval architecture by Dykstra & Partners.