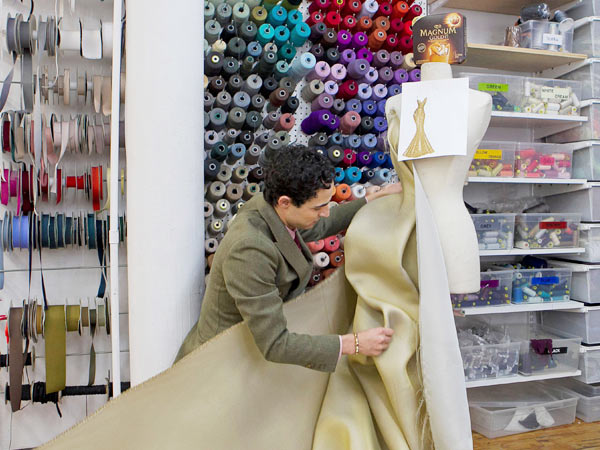 American fashion designer Zac Posen designs his first-ever 24k gold dress in a partnership with Magnum Ice Cream. The $1.5 million gold dress will be unveiled during Tribeca Film Festival and will celebrate the introduction of the "world's first golden ice cream bar". Posen's exclusive dress inspired by the ice cream will make its debut in a short film starring actor Joe Manganiello.
Posen designed the one-of-a-kind couture gown in delicate fabric, featuring more than 10 thousand hand-embroidered 24K gold sequins in five different sizes which were hand-created from sheets of 24k gold. The design team worked with embroidery professionals to bring the dress to life, with two weeks spent handcrafting and sewing delicate gold sequins using a special embroidery technique to accentuate the female shape.
"Creating my first-ever 24-karat gold dress was a truly priceless experience," said Posen. "I'm naturally drawn to luxury and love to push my creativity, so the design process of creating a couture dress made of gold was thrilling. I pulled inspiration from Magnum Gold?! for the dress design… the train reminds me of melting ice cream. The dress is so decadent."
Wonder what new ice cream tastes? Magnum Gold?! features silky vanilla bean ice cream swirled with sea salt caramel and dipped in a golden coating made with Belgian milk chocolate, announced Magnum, one of the world's largest ice cream brands.