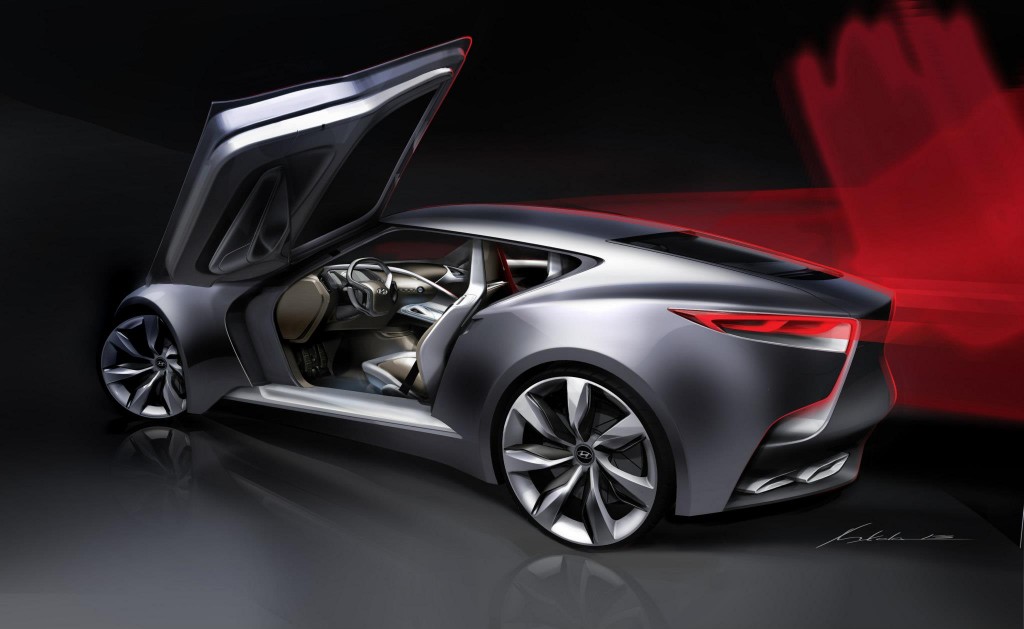 South Korean carmaker Hyundai Motor Co prepares to bite from the luxury car segment. Hyundai debuted the HND-9, its latest luxury sports coupe concept that illustrates the company's future design direction. HND-9 luxury sports coupe concept was unveiled at the 2013 Seoul Motor Show where Hyundai exhibits a total of 30 cars and 11 new technologies in 10 specialized zones, including displays for children. Hyundai's booth, the largest at the show, is based on a theme called 'Brilliant Moment O.' The letter 'O' represents both Hyundai's will to strengthen its basics (zero) and its communication with customers (circle).
"HND-9 will give customers a glimpse of Hyundai's future luxury sports coupe models," said Suk-Geun Oh, head of Hyundai Design Center. "Representing an evolution of Hyundai's 'Fluidic Sculpture' design philosophy, the rear-wheel drive sports coupe concept balances high performance with a sophisticated image." The concept was unveiled at the 2013 Seoul Motor Show.
Equipped with 3.3-liter turbo GDi engine and 8-speed auto transmission, HND-9 delivers a maximum output of 370ps. Twenty-two inch alloy wheels – mixed with carbon materials – also contribute to great styling, while lowering its weight. The seats are made of sporty yet luxurious mesh, and depending on which angle they are seen from, they project different colors, announced Huyndai.
Furthermore, as part of the company's continued efforts to realize its 'Modern Premium' values, Hyundai introduced a variety of both internal and external collaboration projects. Namely, the 'i40 Art Car,' 'My Baby' project and 'Equus by Hermes' concept car showcase "Hyundai's brand enhancement efforts through design".
"Hyundai Motor has come a long way. However, we will not rest on our laurels, but continue putting forth our utmost efforts to deliver Hyundai's unique 'Modern Premium' values to more customers," said Choong Ho Kim, President and CEO of Hyundai Motor.