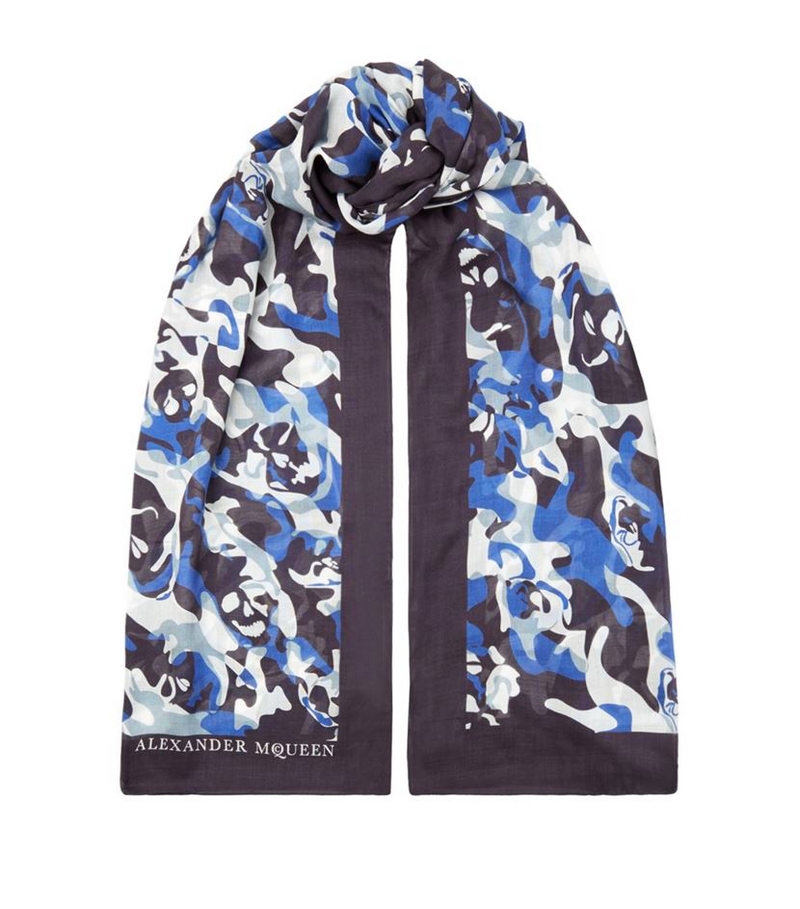 ---
This article titled "Wrap it up, guys: scarf semantics for men" was written by Imogen Fox, for theguardian.com on Friday 27th November 2015 06.17 UTC
Sure, pretend a scarf is just something practical to keep you warm, you don't care how it's tied, it just fell that way. Tosh. How a man wraps his scarf is telling. Getting the right balance between flamboyance and being a bit bus stop is notoriously difficult. Maybe not quite a window to the soul but, still, a massive clue as to whether he considers himself an artist or a tactician. Here's a rundown of male scarf options for 2015 and what you may unwittingly be projecting.
The double scarf, as worn by Count Nikolai von Bismarck
For those not intimate with the back pages of Tatler, the count may be new to you as a menswear style barometer. Quick recap. The 28-year-old is of Prussian descent (yes, that von Bismarck), and since leaving Harrow public school he's been on a permanent "gap yah" taking photographs and, most recently, ending up with Kate Moss as what some are calling his landlady. But you can tell that from his wardrobe. The double polka dot/wine scarves veer somewhere between sixth-form common room lurker and student barman at a sticky-floored music venue. Want to project the same? Go ahead and double scarf.
The faux-casual undone scarf, as worn by David Gandy
Gandy, it is fair to say, is not a man who dresses without guile. Here, the supermodel has really pushed the boundaries of scarf-wearing. His is an attempt to look so casual that you've caught him just that moment after he has unknotted his pashmina, and yet, and yet, he is so dapper he can get away with it. It's as though he looked in the mirror post wet-shave with a towel around his neck and thought: "Hey this might work with a scarf, too." If your life isn't one long fancy dinner date and department store photocall you may struggle to pull this one off. It could just look from afar as if you are wearing a neck travel pillow. Take a moment before you do.
The dugout neck-warmer, as worn by Jürgen Klopp
Pananche just doesn't cover it. This is how to wear a scarf in winter 2015 full stop. It's practical, and in no way ruins the line of his athleisure; plus it laughs in the face of the basic terrace knot. It's also compelling proof that it's how you wear something, not the cost of it which counts.
The party scarf, as worn by Idris Elba
This is clearly not about warmth. It's about showing that you are OK with wearing a fashion accessory. Hence, Idris is wearing it inside at some do where there's champagne and Naomi Campbell. It's a tried-and-tested scarf formula as old as party scarf virtuoso Rod Stewart. If you choose to wear this at the Christmas work do, people will flick it and comment on it because – let's face it – we just haven't evolved enough as a human race that the sight of a man indoors in a scarf doesn't provoke comment. Just be ready with something about party scarves being quite "new Gucci".
The stage door silk scarf, as worn by Simon Callow
Unless you want to project thesp, just don't do it.
guardian.co.uk © Guardian News & Media Limited 2010
Published via the Guardian News Feed plugin for WordPress.