Real Madrid to build $1billion artificial island resort with the first stadium open to the sea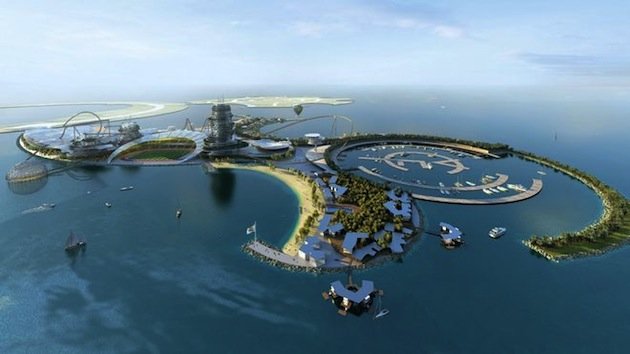 Disneylands, Disneyworld, Ferrari World in Abu Dhabi come to mind when you think of the branded resorts. Real Madrid is the latest developer of a Resort Island, a $1 billion resort on an artificial island in the United Arab Emirates scheduled to open in January 2015. The football club will built the first theme park in the world branded after a sports franchise.
"When the Real Madrid Resort Island opens its gates, visitors will become part of the legend of this club, which strives to be eternal and universal," said Real Madrid president Florentino Perez in the Presidential Balcony of the Santiago Bernabeu Stadium.
It is to be a touristic complex and theme park in the United Arab Emirates under the Real Madrid brand.
"Santiago Bernabeu gave Real Madrid the unique capacity to go beyond this country's frontiers and those of us who administer this legacy are aware of the challenge that comes with handling what gave this club a mythical and legendary status," said Perez at the news conference at Estadio Bernabeu.
"This is a decisive and strategic step that will enhance the strength of this institution in the Middle East
and Asia, a key region in which the passion for this club has been apparent. Our collaboration grows
increasingly stronger and we are proud of it. Real Madrid and the Government of Ras Al Khaimah want to transmit the passion of Real Madrid and what it means throughout the world."
Louis Armand de Rouge, RAK Participations & RAK Marjan Island Football CEO, and Dr. Khater Massaad analysed the Real Madrid Resort Island, explaining it will hold a theme park, the first stadium open to the sea, a Real Madrid museum, numerous sports facilities, a sport port, a residencial area and luxury hotels.
One billion US dollars have been invested in the project and it is expected to open in January 2015. It will be the first theme park on an artificial island to combine tourism and sports, and it will be the first
recreational tourism complex built under the Real Madrid trademark.