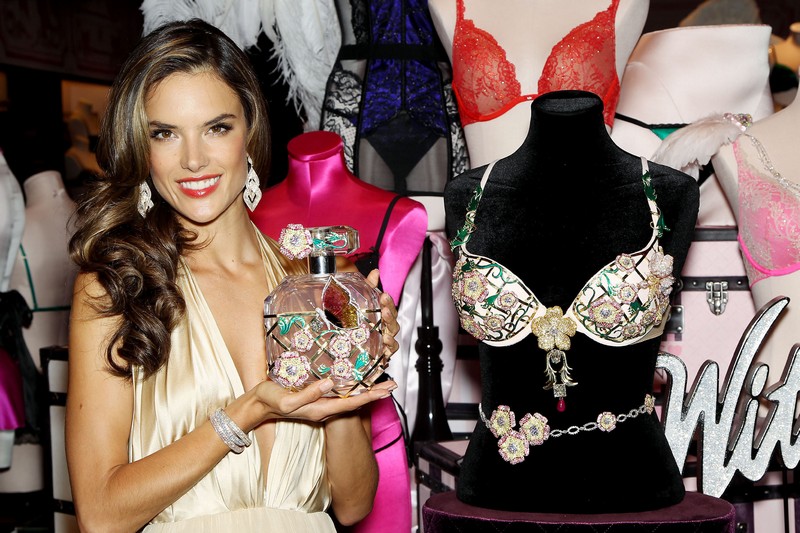 Victoria's Secret Angel Alessandra Ambrosio has been announced the next model to wear a Victoria's Secret Fantasy Bra, following in the footsteps of the most legendary supermodels that have received the honor in years past: Tyra Banks, Gisele Bundchen, Heidi Klum, Adriana Lima, Marisa Miller, Miranda Kerr and Claudia Schiffer among others. Alessandra will wear the bra on the runway in the Victoria's Secret Fashion Show, airing December 4th on the CBS television network (10/9C).
Valued at $2.5 million, the Floral Fantasy Bra Gift Set is handset with over 5200 precious gems, including amethysts, sapphires, tsavorite, rubies, white, pink and yellow diamonds, all set in 18 karat rose and yellow gold. The gift set includes a custom Very Sexy Push-up Bra and matching belt. The luxury bra has two removable diamond flower pins and the drop centerpiece features an astonishing 12.5 carat and 20 carat white diamond.
In addition to the Floral Fantasy Bra Gift Set, Victoria's Secret debuts the $500K Bombshell Fantasy Fragrance this holiday season. The fragrance has notes of purple passion fruit, Shangri-la peony and vanilla orchid. The bottle is comprised of white, pink and yellow diamonds, sapphires, tsavorite, rubies plus a 10 carat white diamond and an exquisite one of a kind, hand carved tourmaline butterfly. Over 15,000 stones from around the world were inspected to find the perfect colored, size and shaped gems to create the one of a kind bra, belt and fragrance bottle. "These fantasy gifts were inspired by the idea of dreamy fantasy garden filled with vibrant colored flowers and heavenly Angels," said Victoria's Secret in a statement.