Venini has created a series of ten unique sculptures.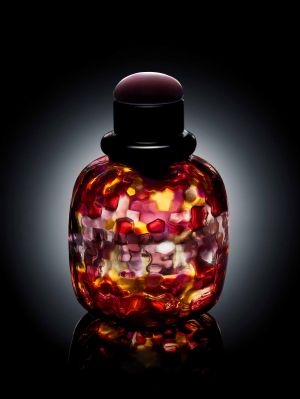 Italian art glass maker Venini pays tribute to the iconic Yves Saint Laurent fragrance introduced in 1983 with a series of unique sculptures. Ten sculptures inspired by the Yves Saint Laurent Paris flacon are available in a selection of high-end stores, priced at $7,500 in the US.
Verrerie Venini's Master glassblowers created the new interpretation of the iconic bottle: Paris. The famous fragrance celebrates its 30th birthday and Venini produced this limited edition with the "murrine" technique.
Inspired by vintage roses of the Marrakesh gardens, Venini master Sophia Grojsman used rich colored glass in crimson, yellow, pink, and signed each perfume-inspired bottle. Presented in a lacquered black box, each Venini glass sculpture is accompanied by an eau de toilette and an art book telling the story behind Venini x YSL Beaute collaboration.