Mercedes presented its new minivan: V for vacation.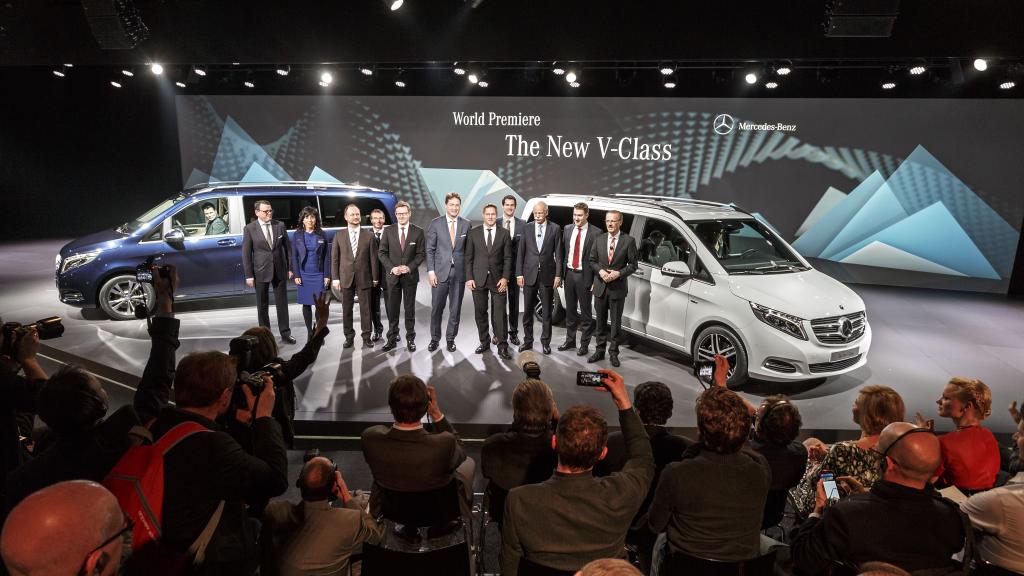 The German premium car manufacturer Mercedes-Benz presented at the Munich Olympics complex its V-Class MPV – a new full-size multi-purpose vehicle of small family car intended to meet requirements of families, people with active hobbies, and shuttle bus operators.
"With the new V-Class we are expanding the Mercedes-Benz premium automobile range with a sedan for up to eight people," said Dieter Zetsche, Chairman of the Board of Management Daimler AG and Head of Mercedes-Benz Cars Division. "Functionality is a must for an MPV; comfort and style are the icing on the cake. The new V-Class combines both in a way that no other vehicle in this segment can offer."
Mercedes' new minivan offers impressive spaciousness and a wide variety of seat configurations in the rear. Examples include individual seats and benches for two or three passengers. The separately opening rear window is a special highlight for the easy loading and unloading of cargo. The rear window can be opened and closed independently of the rear hatch, enabling users to access a second cargo platform.
At its market launch, the new V-Class will be available with a cutting-edge turbodiesel in three output ratings. The 2.1- liter four-cylinder engine has common rail direct injection and is available in 100 kW (136 hp), 120 kW (163 hp), and 140 kW (190 hp) versions.
"The new V-Class demonstrates that an elegant and dynamic appearance is also possible in size XXL," said Volker Mornhinweg, Head of Mercedes-Benz Vans. "The V-Class is a versatile, multitalented vehicle that offers value, efficiency, and safety at the highest level. As a result, we are addressing completely new customer groups — including people who need a large amount of space but never wanted to drive an MPV because style, well-being, and riding comfort have so far been neglected in this segment."
Mercedes-Benz Vans has made sure that the new V-Class meets a wide variety of customer requirements, focusing especially on the needs of three customer groups. First, families that include two or more children and value an active family life, leisure time, and a good work-life balance. Secondly, people who are very active in their leisure time. Because these individuals have a lot of sports and outdoor equipment, they need more transport capacity but would still like to remain
as independent as possible. The third group consists of operators of luxurious VIP or hotel shuttle buses who want to provide their passengers with a comfortable and high-quality travel experience.
"The new V-Class is simply the best vehicle available in its segment," said Mornhinweg. "It's a stylish all-rounder that can be customized to fit every taste and every requirement. And the designation 'best-in-class' also applies to the vehicle's price-to-performance ratio. The new V-Class can be had for as little as €42,900, excluding sales tax."
In Germany, customers will be able to order the V-Class beginning on March 6, 2014; the market launch will begin in late May.