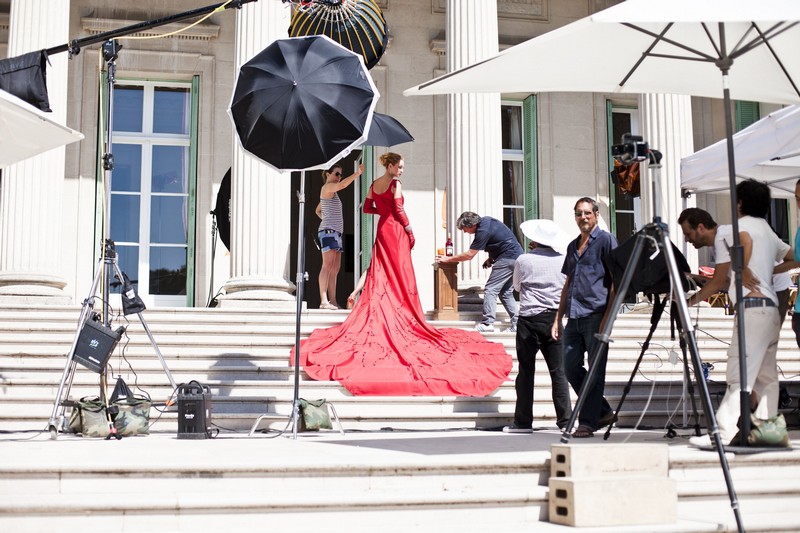 The iconic, edgy Uma Thurman takes the lead in the 2014 edition of the Calendar which is entitled 'Worldwide Celebrations', with each month focusing on a unique festival from a number of different cultures around the world.
Uma, who has starred in a number of high-profile blockbuster movies such as Pulp Fiction and Kill Bill, follows in the footsteps of previous Campari Calendar heroines, including stylish and passionate actresses Salma Hayek, Eva Mendes, Jessica Alba, Milla Jovovich and Penelope Cruz.
Koto Bolofo is the latest photographer to capture the renowned Campari Calendar, for its 15th edition. Having been born in South Africa, raised in Great Britain and now residing in France, Bolofo is a true world citizen, enabling him to embody the theme of the Calendar even further. Bolofo is well known for his powerful portraits, innovative fashion shoots and numerous short films. He has shot for a number of high-profile publications including Vogue, Vanity Fair and GQ, and has created advertising campaigns for luxury brands such as Louis Vuitton and Dior. Bolofo is renowned for his keen eye for lively and dynamic imagery, which he will be using to offer a window on the world to Campari lovers around the world in the 2014 Calendar.
"To be a part of such a globally-renowned project for an iconic worldwide brand is a pleasure. I particularly admire the theme this year as I am able to share a worldwide journey of discovery, passion and style with Campari lovers around the globe. Each month, the true essence of a 'global celebration' has been captured beautifully thanks to Koto, a highly-acclaimed photographer with a keen eye for creating intriguing, stimulating and truly dynamic imagery," said Uma Thurman.
"Campari's ethos of consistently creating striking and powerful imagery for its world-renowned Calendar aligns perfectly with what I consistently strive to achieve in my work. To work on this project with a beautiful and talented actress such as Uma Thurman is an honour, and has provided me with an opportunity to push the Calendar's boundaries and defiantly capture the passion and style which is centred on this year's truly inspiring theme," commented Koto Bolofo.