Mon Guerlain is characterized by the freshness of Lavender Carla, an exceptional variety cultivated in Provence, which contrasts with the voluptuousness of the Sambac jasmine from India and the Australian Album Sandalwood, associated with the sensual Vanilla Tahitensis of Papua New Guinea.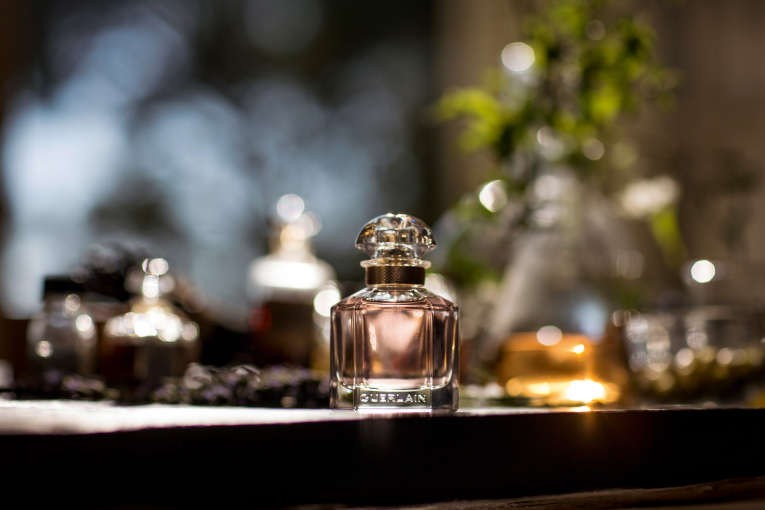 "We always create a fragrance for a woman we admire" – Jacques Guerlain.
A perfumer tells a story or paints a portrait and in the case of the new Mon Guerlain perfume, it is the portrait of a woman. Thierry Wasser, Guerlain's Master Perfumer, offers a tribute to feminity, to free and sensual women. This dreamed-up fantasy embodied by muse Angelina Jolie has a heart of Tahitensis vanilla – also present in Jicky, Shalimar and Habit Rouge. Vanilla is joined by lavender, Sambac jasmine and sandalwood. Melding fresh and sensual feminine and masculine notes, this audacious accord gives Mon Guerlain its power and modernity.
Notes of a Woman, the Mon Guerlain advertising film, was shot in France's Provence region with Terrence Malick and Angelina Jolie. The film recounts the story of how the fragrance was created, focusing the spotlight for the first time on the perfumer.
The bottle for the new fragrance revisits the celebrated quadrilobe bottle, inspired by an alchemist's flacon, designed by Gabriel Guerlain and crafted by Baccarat in 1908. The sleek and sober graphic lines celebrate a modern femininity, sincere and authentic.
Thierry Wasser has created many notable perfumes including: Addict for Christian Dior, Diesel Fuel for Life for Her, Guerlain Quand Vient La Pluie, Lancôme Hypnose, Guerlain Idylle, Guerlain Aqua Allegoria, Guerlain Flora Nymphea, Jil Sander Man absolute, Guerlain La Petite Robe Noire, Guerlain L'Homme Ideal.