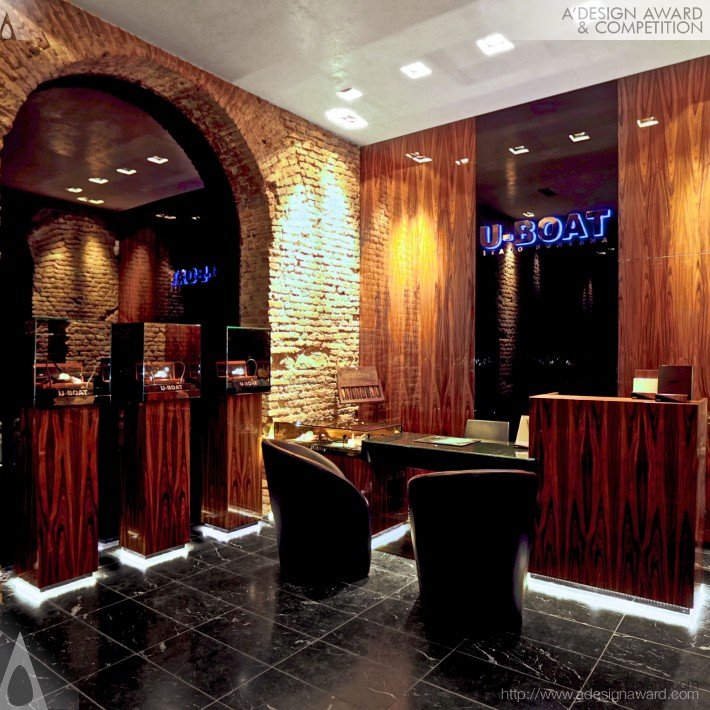 The design U-Boat Watch Store by Alessandro Luciani has been awarded with the notable Silver A' Design Award at Interior Space and Exhibition Design Competition.
The award-winning project is a luxurious and original interior design for made in Italy watch store – U-BOAT by Italo Fontana. The idea of design aims to present a store space that respects and transmits the brand values and its rich history. The watch design introduces merging of the history and traditions that conveys modernity and originality, while interior of the store creating a comfortable atmosphere in an prestigious environment that lets the customer immerse in the world of U-BOAT.
U-Boat Watch Store was made by Alessandro Luciani, Alessandro Pasquali, Federico Mazzola and NewStoreEurope, Italy.
In October 2013, U-BOAT opened another Italian landmark in the Ponte Vecchio's historical bridge in Florence. Being present in Florence, capital of the Renaissance, means a lot for all the prestigious brands but even more for Italo Fontana, creative soul behind U-BOAT, and since the beginning standard bearer of the "Made in Tuscany" values.
Italo, born in the near medieval city of Lucca, announces the opening of the U-BOAT third Italian flagship store.
The boutique, opens its doors in the short and popular pedestrian Ponte Vecchio, the oldest bridge in Florence spanning the River Arno. It is one of the few remaining bridges with houses built upon. The opening follows the last italian boutique in Milan, Corso Como and overseas the recent launch of its 18th boutique in the fashionista Nathan Rd, Hong Kong.
EICMA 2013, the biggest event in the world dedicated to 2-wheels and taking place in Milan, has been literally dazzled by the first U-BOAT bike.U-BOAT showcased the famous Special Triumph designed by Italo Fontana in association with customizer Dino Romano, unveiled last year at Baselworld 2013.
The Venenum Bike, is a pure example of U-BOAT recognized identity on two wheels.