Chinese luxury spend Set to accelerate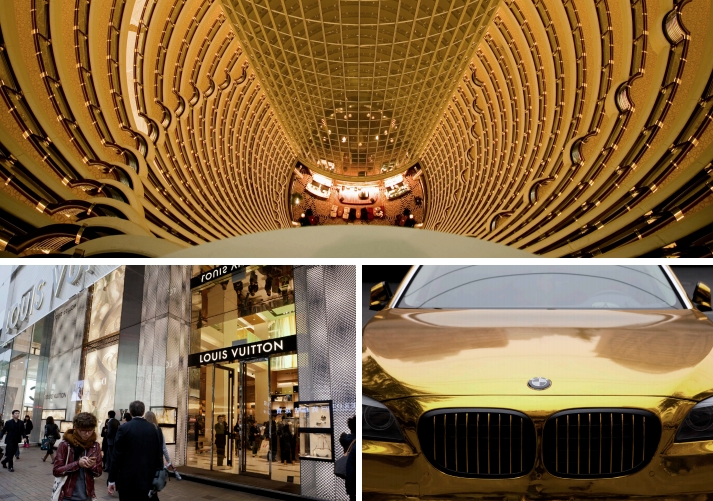 Asian ultra high net worth (UHNW) individuals wealth is expected to grow by 7.9% annually for the next five years with China contributing to the bulk of this growth, according to the Wealth-X World Ultra Wealth Report 2012- 2013, a provider of detailed intelligence on ultra high net worth (UHNW) individuals globally.
"Special Report: The Global Chinese Luxury Consumer" examines the impact of the decrease in the Chinese UHNW population and combined wealth on luxury spending. Charting trends in luxury spend among Chinese UHNWIs, the report gives insight on luxury categories that have seen major expenditure among ultra wealthy Chinese.
Chinese UHNW individuals' spend on luxury items is growing at a slower rate compared to the previous year. This reflects the decline in the Chinese UHNW population as reported in the Wealth-X World Ultra Wealth Report 2012-2013. The Chinese UHNW population shrank by 2.3% to 11,245 UHNW individuals. Chinese billionaires lost almost a third of their combined wealth and the Chinese UHNW population's wealth decreased by 6.8% to just under US$1.6 trillion. However, Wealth-X remains optimistic on the long-term prospects for the Chinese UHNW population and wealth growth.
Chinese UHNW consumers are less price-sensitive than their European counterparts. Chinese UHNW individuals are increasingly travelling to Europe cities, such as Paris and London, and purchasing luxury items for up to a 40% discount while using an appreciating Chinese Yuan to their advantage. The luxury tourism phenomenon was aided by the easing of visa requirements for Chinese tourists.
The social cache of luxury tourism further enhanced its popularity among Chinese UHNW individuals. This trend may lead retailers to increase the prices of luxury products sold in Europe in order to make their luxury products more competitive in Mainland China.
Luxury Automobiles:
China is one of the largest markets for luxury automobile manufacturers, such as Bentley, Lamborghini and Porsche, and is presently the largest market for Rolls Royce. Luxury car manufactures have experienced increased sales in China; in the first nine months of 2012, BMW saw sales in China climb 34% from the previous year to reach a total of 237,056 cars. Chinese sales are expected to surpass sales in the United States for both Bentley and Porsche this year.
Fine Art and Collectibles:
Last year, China accounted for more than 40% of global auction revenue for fine art. The Chinese art market expanded by 177% in 2010 and 65% in 2011, far surpassing growth rates in both Europe and the United States. China surpassed the United States in terms of the total value of art sales and is likely to overtake Europe with its impressive growth rates in the next six years. Christie's reported sales of US$114.7 million worth of artwork by Old Masters and 19th century artists, an increase of 48% from a year ago. Auction houses in New York and London, such as Christie's have reported a 31% increase in their Asian clientele numbers and several have partnered with Mainland Chinese auction houses to capture this growth.
Private Aviation:
The Chinese aviation sector has signifcant growth opportunity; there are an estimated 130 private jets in China compared to at least 10,000 private jets in the United States.
There are 1,245 Chinese UHNW individuals who are worth more than US$250 million. This presents major growth opportunities for private aviation companies, such as Dassault Falcon, Cessna and Embraer, who have all expanded their presence in China recently. Improving airspace regulations, investments in infrastructure and the availability of aviation maintenance services are increasing the appeal of private aviation ownership for Chinese UHNW individuals.
"The opportunities for luxury retailers are immense and their success depends on their ability to thoroughly understand the Chinese UHNW market. The rising wealth of Chinese female UHNWIs offers significant growth potential for luxury providers," Mr Rambus added.
Growth in the luxury retail sector remains positive in China. Despite signs of slowing, China is expected to register double digit luxury retail sales growth compared to single digit growth figures for Europe and North America.
Luxury purveyors are extending their commercial reach by expanding into second and third tier cities like Chengdu, Hangzhou, Tianjin, Nanjing and Wuhan in order to increase sales and combat growing brand fatigue among mature luxury consumers in tier one cities.
The rising wealth of Chinese female UHNW individuals offers an additional growth opportunity for luxury goods providers. Wealth-X estimates that there are 2,725 female UHNW individuals in China, or 24% of the UHNW population. These ultra wealthy women have an average net worth of US$119 million. Women aged 40 years and below account for 39% of the female UHNW population. This presents significant opportunity for luxury brands that cater to the younger generation.
Luxury automobiles manufacturers, such as Maserati and Ferrari, have reported sales in China that exceed European and North American sales.