Top ten sustainable textile trends, with the potential to influence eco thinking of the future highlighted by WGSN Materials team:

1. Compress fibres to produce new eco materials
2. Luxury unwaste redefines recycling
3. Changing the functions of food
4. Reclaiming discarded items into new products
5. Reinterpreting domestic processes
6. The versatility of cork
7. Eco-friendly process in the denim industry
8. AirDye technology
9. Tackling air pollution
10. Glowing silk worms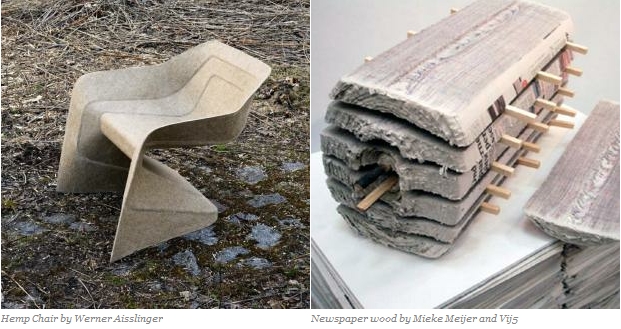 – Compress fibres to produce new eco materials
Natural fibres can be used for products with surprising innovative outcomes
Architect/designer Werner Aisslinger's Hemp chair is the first monobloc chair designed using natural fibres. Raw materials, hemp and kenaf are moulded using steam and eco-friendly resin, resulting in a sustainable composite material
Design Academy Eindhoven graduate Mieke Meijer has created a new wood-like material by layering discarded materials, bonding them with resin and milling the material into planks, giving new life to recyclable waste.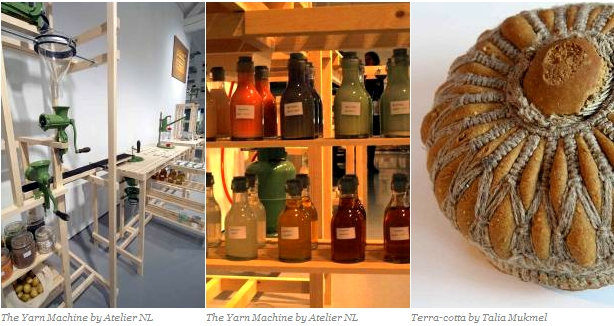 – Changing the functions of food
In a revolt against cheaply produced, mass-market goods, a luxury unwaste approach redefines recycling for a design-intelligent market, rediscovering the orginal value of materials through integrity
Ex Limbo by Belgian art collective Rotor investigates scenographic elements of fashion shows set designed by Prada and Oma dating back to 1993. The starting point of this project was a curiosity about materials used and reasons why they were conserved. These elements were then presented in new ways, urging viewers to take a second look at them and the ideas they represent
Working with recycled materials, Ghanian sculptor El Anatsui draws on a large spectrum of indigenous African cultures, particularly with the erosion of traditional values. In his cloth series: Man's Cloth, El Anantsui constructs beautiful cloths made from discarded bottle-neck wrappers, a reflection on the traditional narrow-strip woven silk cloth made in Ghana, which is a great source of national pride.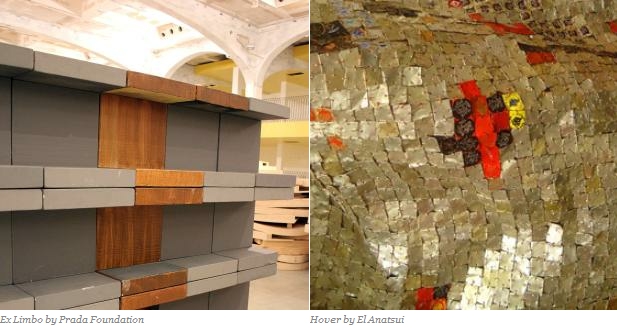 – Luxury unwaste redefines recycling
Food stuffs provide provocative raw materials for the design industry
The Yarn Machine, conceived by Atelier NL, is a conceptual installation that uses simple tools ordinarily found in a domestic kitchen. The designers experimented with food including seaweed, milk and peanuts to investigate which natural substances could be converted into biodegradable yarn
Using flour, sand and string, designer Talia Mukmel explores interesting amalgamations of materials, resulting in macramé nets that restrict and dictate the forms of vessels that appear to have risen like bread

– Reclaiming discarded items into new products
These discarded items are reclaimed into new products when sandwiched together by hand to create a new material
Design Academy Eindhoven graduate Michelle Baggerman has developed a technique for spinning used plastic bags into a durable yarn to create strong woven fabrics, involving neither heat or chemicals; so when the textile wears out it can still be recycled in the conventional way
Rotterdam designer Diederik Schneemann presented a series of vases and lamps made from recycled flip flops washed up on Kenyan beaches at Ventura Lambrate in Milan, as part of 2011 design week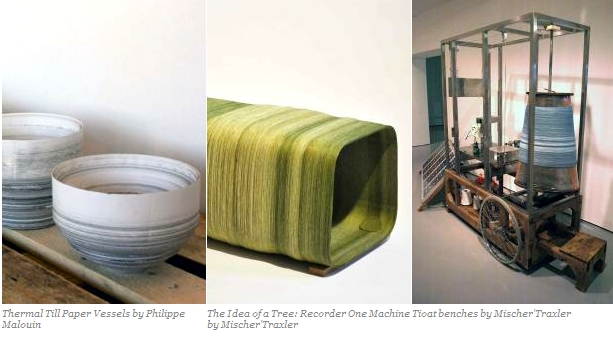 – Reinterpreting domestic processes
A home workshop approach celebrates materials plucked from the backyard, studio, kitchen and garden, demonstrating resourceful processes with freedom of experimentation
To create his thermal till roll vessels, Philippe Malouin fixes one end of the roll to an electric drill and, as the paper transfers from one spool to the other, sprays it with glue while simultaneously controlling the form the vessel takes, providing an inventive antidote to mass production, waste and pollution
Mischer'Traxler also used ingenuity to create, devising a solar-powered machine that spins yarn around a form to create objects ranging from benches to lampshades. The dimensions, colour saturation and thickness of the outcomes provide a visual representation of the available sunlight on a particular day in a specific location
Cork is a humble and natural material that can be transformed through traditional craft or production techniques into contemporary products with sustainable considerations
Cork has great thermal and acoustic insulating properties, and the potential application to interior and product design is very interesting. Designer Yemi Awosile exploits the natural beauty and adaptability of cork in her flooring, upholstery and lighting using cork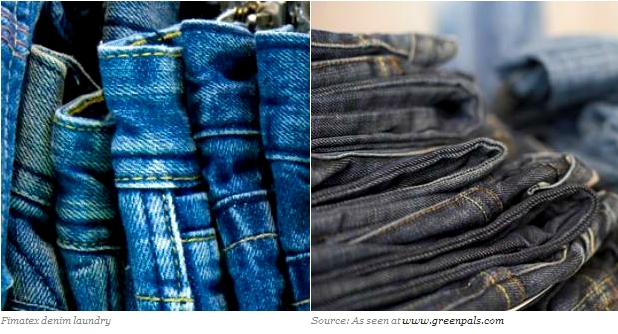 – Eco-friendly process in the denim industry
the denim industry has been investigating more eco-friendly processes to sandblasting which is hazardous to the environment
Denim laundry Fimatex have developed a fading process utilising a vegetal mix composed of the waste from the food chain, which produces a similar "used" effect to the fabric. The vegetable mix adopted is in fact environmentally friendly and 100% biodegradable, with zero environmental impact.

– AirDye technology
Conventional dyeing, such a vat dyeing or cationic dyeing can use polluting heavy metals; a large amount of precious water; and do not always provide permanent colouration
An alternative option is AirDye technology, that controls the application of colour to textiles without the use of water, creating a sustainable alternative to traditional dyeing and printing processes
Designer costello Tagliapietra uses this technique to create beautifully saturated colour print effects, with ombré softness and romantic femininity.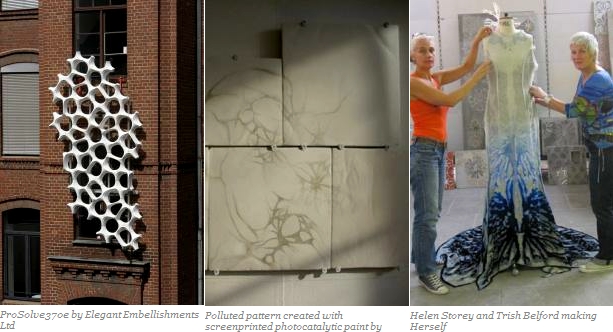 – Tackling air pollution
The need to tackle air pollution has never been more urgent, and some ground-breaking projects involving industrial materials for architecture are already underway
Nano-structured titanium dioxide particles can be embedded within cement binder to provide '"self-cleaning" cement. Decorative tiles such as the ProSolve 370e can effectively reduce air pollution when located near traffic or in densely polluted areas
Alessia Giardino's polluted pattern tiles explore the creative and aesthetic potential of designing pattern activated by pollution
Catalytic Clothing by Professor Helen Storey and Professor Tony Ryan is a project that aims to explore how clothing and textiles can be used as a catalytic surface to purify the air we breathe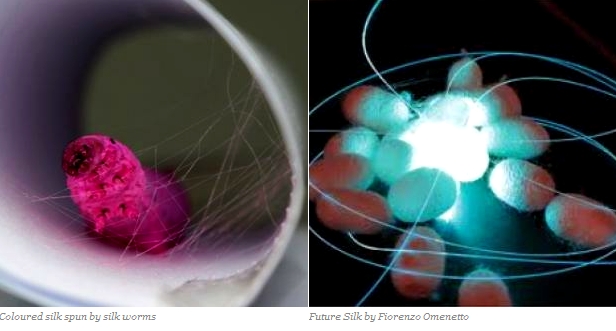 – Glowing silk worms.
Researchers at the Agency for Science, Technology and Research in Singapore have discovered a way to make silk worms spin coloured thread by feeding the worms mulberry powder – their natural diet – blended with specific colour dyes
The worms begin to produce silk cocoons in bright colours including fluorescents, and even glow-in-the-dark thread