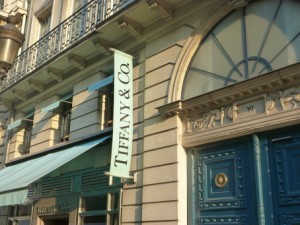 The building that holds Tiffany & Co's flagship Paris store is up for sale with a price tag of more than £25 million. As well as housing Tiffany & Co, the building on 6 Rue de la Paix is also home to Kornmesser, an Austrian luxury jewellery and porcelain retailer. Both jewellery retailers have recently signed for new long-term leases.
"Rue de la Paix is amongst the world's most prestigious retail destinations and we will be seeking prices in excess of €30 million for the SPV, with initial offers being sought in late March," said Larry Young, CBRE Capital Markets Paris associate, the commercial estate agent which is handling the sale on behalf of the building's owner.
The Rue de la Paix is one of the most prestigious streets in capital for luxury retail and is also home to Bulgari, Van Cleef & Arpels, Hermes and Cartier. The street runs into Place Vendôme, another hot spot for luxury jewellery and watch retail that is soon to hold the new Louis Vuitton flagship store as well as a store for Breguet.
The street was opened in 1806 from Place Vendôme on the orders of Napoleon I, part of the Napoleonic program to open the heart of the Right Bank of Paris, both towards the undeveloped western suburbs and to the north. Creating the new street required the demolition of the ancient Convent of the Capucins. At first named Rue Napoléon, its name was changed in 1814, after the Bourbon Restoration, to celebrate the newly arranged peace.
More jewellery news  professional jeweller