---
This article titled "India's Mihir Garh named world's most extraordinary hotel by Lonely Planet" was written by Isabel Choat, for theguardian.com on Tuesday 18th February 2014 15.40 UTC
There are dozens of converted historic forts and palaces offering luxury accommodation in India but a fort, built from scratch in the Rajasthan desert just five years ago, has been named the most extraordinary hotel in the world by Lonely Planet.
Perched on a sand dune, overlooking the parched earth and shrubs of the Thar desert, Mihir Garh – or the fort of the sun – was a labour of love for owner Sidharth Singh, who says he was driven by intuition rather than reason; hiring more than 100 local craftsmen and carpenters who worked for two years to create nine 1,700sq ft suites, each with its own plunge pool, fireplace (made in the local style, from cow dung) and decorated in furnishings from Jodhpur.
"Few hotels are created without compromise, Mihir Garh is a rare example. This is not just a unique place to stay, it's a shrine to the artistic and architectural traditions of Rajasthan in general and Jodhpur in particular," says Lonely Planet writer James Kay.
The top 10 most extraordinary hotels, is one of three inaugural lists naming the guidebook publisher's favourite places to stay in the world. The other two are best-value hotels in the world, and the 10 most outstanding eco-hotels.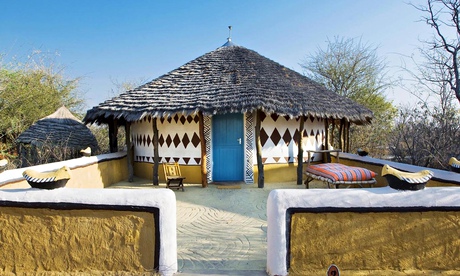 In second place on the most extraordinary list was Planet Baobab, a collection of grass and mud huts with an onsite "shebeen" (bar) in the Makgadikgadi salt pans of Botswana, where the lunar-like landscape is dotted with 4,000 year old baobab trees.
No UK hotels, and only a few hotels in Europe, made it on to the three lists. One exception was Prendiparte B&B in Bologna, a single suite in a 900-year old tower, one of the few left in the city, with a rooftop terrace "offering breathtaking views over Bologna's historic skyline".
Other extraordinary places to stay include a collection of spherical treehouses suspended in the forest on Vancouver Island, a 1869 lighthouse on the Hudson river in New York State and a cave hotel in Cappadocia, Turkey, famed for its troglodyte architecture.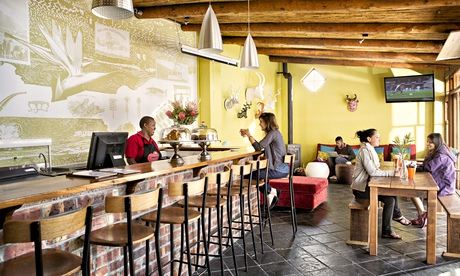 Two of the top three best-value hotels in the world are in South Africa, where tourists are currently getting even more bang for their buck with the exchange rate at 18 rand to the British pound (10 to the US dollar). The number one best-value place to stay is The Backpack in Cape Town, a hostel with a pool, which supports local community projects, is accredited by Fair Trade Tourism and was recently voted Best Hostel in Africa 2014 by hostelworld.com. Inkosana Lodge, which offers dorms, camping and private rooms in the Drakensberg mountains, is in third place, while Sydney harbour YHA, famed for its harbour views, came in second.
South Africa also made an appearance on the eco-list, with Bulungula Backpackers coming second. A collection of huts overlooking a remote beach on the wild coast, jointly owned by the local Xhosa community, it warns potential guests it is "not an old-style, white South African beach resort". It also promises night skies so clear, it guarantees "your money back if you don't see a shooting star for half an hour at night".
In first place was Lapa Rios in the Costa Rica rainforest, where guests staying at its 16 bungalows fall asleep to the sound of the Pacific Ocean and are woken by the calls of howler monkeys.
The full list of winners …
Most extraordinary
1 Mihir Gahr, Rajasthan, India
2 Planet Baobab, Gweta, Botswana
3 Prendiparte B&B, Bologna, Italy
4 Qasr Al Sarab, UAE
5 Peppers Cradle Mountain Lodge, TAS, Australia
6 Free Spirit Spheres, British Columbia, Canada
7 Taskonak Hotel, Goreme, Cappadocia, Turkey
8 Thonga Beach Lodge, iSimangaliso Wetland Park, South Africa
9 Saugerties Lighthouse, New York state, USA
10 The Gibbon Experience Treehouse, Bokeo Reserve, Laos
Best value
1 The Backpack, Cape Town, South Africa
2 Sydney Harbour YHA, Australia
3 Inkosana Lodge, Champagne Valley, Drakensberg, South Africa
4 Old Plovdiv Guesthouse, Plovdiv, Bulgaria
5 Hotel Gruner Baum, Glorenza, Sudtirol, Italy
6 Oztel, Rio de Janeiro, Brazil
7 Fauzi Azar Inn, Nazareth, Israel
8 We Hostel Design, Sao Paulo, Brazil
9 Hotel Hotel Hostel, Seattle, USA
10 On the corner, Kolomyya, Ukraine
Outstanding eco-hotels
1 Lapa Rios, Peninsula de Osa, Costa Rica
2 Bulungula Backpackers, South Africa
3 Chole Mjini, Chole Island, Mafia Archipelago, Tanzania
4 Machu Picchu Pueblo Hotel, Aguas Calientes, Peru
5 EcoLodge Chepu Adventures, Chiloe, Chile
6 Maison Anglaise, Taroudant, Morocco
7 Earthship Rentals, Taos, New Mexico, USA
8 Dana Guest House, Jordan
9 Nuli Sapi, Papua New Guinea
10 Baikaler Eco-Hostel, Listvyanka, Russia
guardian.co.uk © Guardian News & Media Limited 2010
Published via the Guardian News Feed plugin for WordPress.