India's man with the golden shirt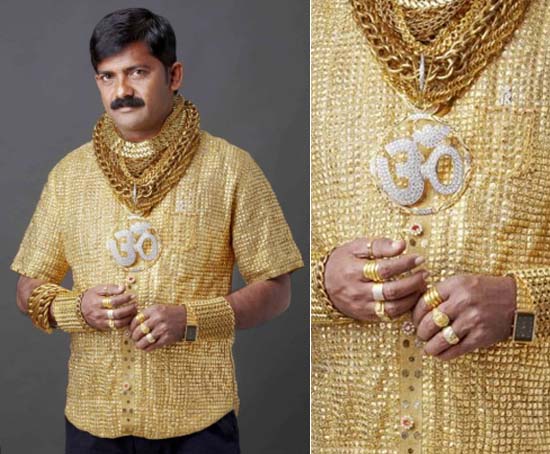 According to the World Gold Council, India bought 933.4 tonnes of gold in 2011. 3.32 kilograms (7.3 pounds) of this gold were purchased by a Indian businessman to bring him his 15 minutes of fame. Datta Phuge ordered a golden shirt worth 240,000 dollars, made up of 14,000 pieces of 22-carat gold. In 2011, Phuge asked a local jeweller friend to concieve a golden shirt put together by 15 craftsmen over 16 days. Phuge
even asked Guinness World Record to recognise his shirt as being the heaviest.
"Gold has always been my passion since a young age. I've always worn gold as jewellery in the form of bracelets, rings, chains," the 42-year-old Datta Phuge told AFP.
"We were thinking, is there something different we could do with gold? What has no one done before?" he said.
The shirt adorned with six Swarovski crystals for buttons and matching gold belt is worn on special occasions, along with numerous flashy gold accessories.
"Everybody knows me as the 'gold man' in the whole region. Other rich people spend one crore (10 million rupees) to buy Audis or Mercedes, to buy what they like. What crime have I done? I just love gold," he said.
Showy displays of gold are a tradition in India, the world's biggest consumer of gold. The precious metal plays a decisive role in religious festivals and weddings.