Heavy industrial robots in a landscape of glass: Glass Elephant signature exhibition at stockholm design week.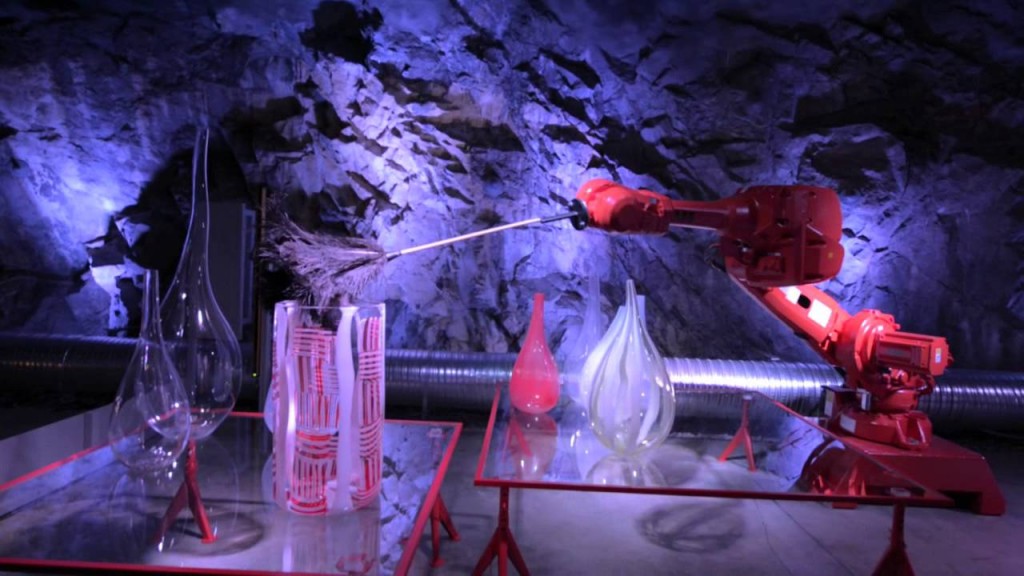 Glass Elephant signature exhibition @ Stockholm Furniture & Light Fair, the world's largest meeting place for Scandinavian furniture and lighting design.
As part of Stockholm Design Week (4-10 February 2014), Glass Elephant, a design installation in the borderland between industrial design, craftsmanship and performance, facilitated the cohabitation of heavy industrial robots in a landscape of glass. Glass Elephant, a creative collaboration between Stockholm Furniture & Light Fair and ABB, explored the properties of glass as material and muse, and told a story about the meeting of contrasts. Gossamer glass met robot arms of steel and the advanced tactile technology of the hand met the indefatigable precision of the machine in a floating,
inquisitive interplay. The exhibition architecture has been designed by TAF Arkitekter.
"The purpose of the installation is to diversify and vitalize Stockholm Design Week's image as an innovative and dynamic meeting place for the best in Scandinavian design. We want to create inspiring experiences and added value for both industry professionals and interested members of the public," explains Cecilia Nyberg, Event Manager of Stockholm Design Week and Stockholm Furniture & Light Fair, which acts as the hub around which Design Week has developed in the last decade.
"Our basic concept originates in the cavern setting, which is completely without natural light. We want to emphasize the existing space and have added what was not already there. So the installation design has windows as a theme – they are symbolic, as you can't see out," says Gabriella Gustafson, TAF Arkitekter.
The work of some of Sweden's most trendsetting designers was featured in Glass Elephant, including Åsa Jungnelius. Other designers taking part were Ann Wåhlström; Carina Seth Andersson; Katja Pettersson; Magnus Elebäck and Chris Martin, Massproductions; Johannes Carlström, Note Design Studio; Simon Klenell and John Astbury, Whatswhat.
"I've chosen to concentrate on the rock and the forces living within it. That's why I wanted to personify the robots, to make them as much human as machine. They could be about to engage in some kind of jerky wrestling match. There'll be a number of glass objects around the robots, fetishes from the consumer society, including a giant pink diamond. This is intended to create a somewhat abrasive image of the love of consumerism, something that's in the process of changing. The desire for material things is universal, but what exactly do we become without our fetishes and the props we surround ourselves with? Cave people?" wonders Åsa Jungnelius.