The Cube by Electrolux launches in London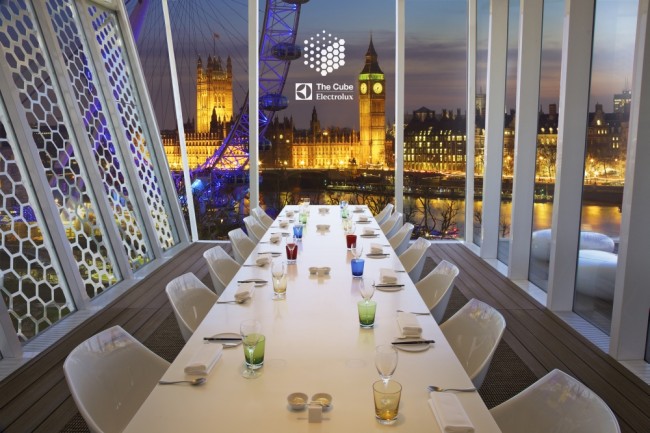 After Brussels and Milan, pop-up semi-transparent restaurant The Cube by Electrolux has launched in London. For just four months, it will reside atop of London's Royal Festival Hall – featuring the talents of some of the most exciting chefs in the UK who work with Electrolux every day.
The Cube mobile restaurant pavilion offers a unique opportunity to watch some of Britain's top chefs cook for just 18 guests high above the hustle and bustle, against a backdrop of the River Thames, Big Ben and the Houses of Parliament.
Six chefs have been handpicked from around the British Isles. With eight Michelin stars between them, each will present a unique menu inspired by the season and setting, demonstrating the crafting of every delicious dish.
Two-Michelin starred chefs Sat Bains, Claude Bosi and Daniel Clifford will be joined by the winners of 'Ramsay's Best Restaurant 2010' and Michelin star holders Jonray and Peter Sanchez, as well as Scotland's youngest recipient of a Michelin star, Tom Kitchin.
Open daily, The Cube by Electrolux offers a lunch at 12:00 for £175 and dinner at 19:00 for £215 (prices includes Champagne reception, a minimum 6 course tasting menu and matched wines). The pop-up restaurant runs until September 30.