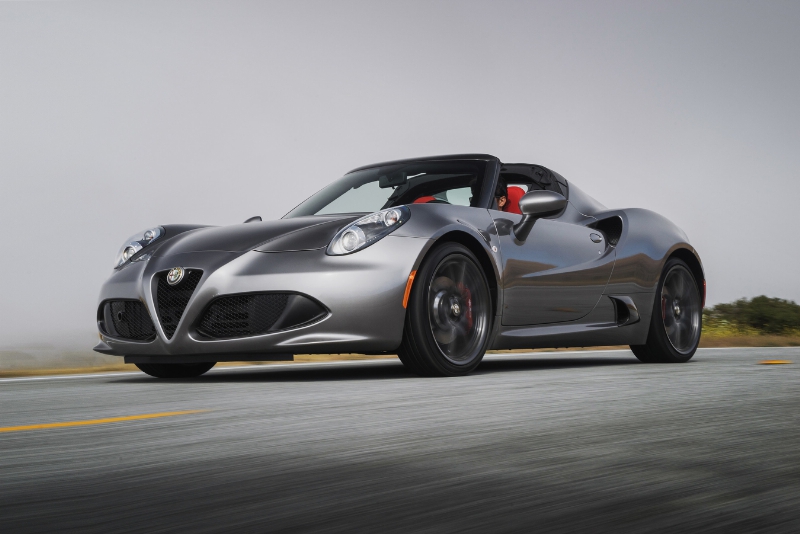 The all-new 2015 Alfa Romeo 4C Spider debuts with panoramic views complemented with a signature Alfa exhaust note, plus the essential sportiness of the award- winning 4C – handcrafted in Modena, Italy; Italian style; a Formula 1 inspired carbon fiber monocoque chassis that enables an incredible power-to-weight ratio; advanced technologies, including the all-aluminum 1750 turbocharged and intercooled engine with direct-injection and variable-valve timing that enable "supercar-level performance".
"Spiders have always been at the very core of the 'Great Alfa Romeos,' and our all-new 4C Spider builds on the brand's motorsport and technology heritage for an open-air experience that is pure driving exhilaration," said Reid Bigland, Head of Alfa Romeo North America. "From its track-proven 1750 turbocharged engine, to its hand-laid carbon fiber monocoque chassis, the 4C Spider takes the innovation and ingenuity of the 4C and delivers an open-air experience without sacrificing any of its supercar-level performance and capability."
Seven exterior colors are available for the 4C Spider. Complementing the 4C Spider's exterior are six interior combinations, which include two seat material choices. For a bespoke look, and all new to the 4C model lineup, a contrasting Tobacco leather seat accompanied with a Black leather Interior accented with Tobacco stitching will be offered.
With the arrival of the 4C Spider are six wheel choices, including four all-new wheel designs.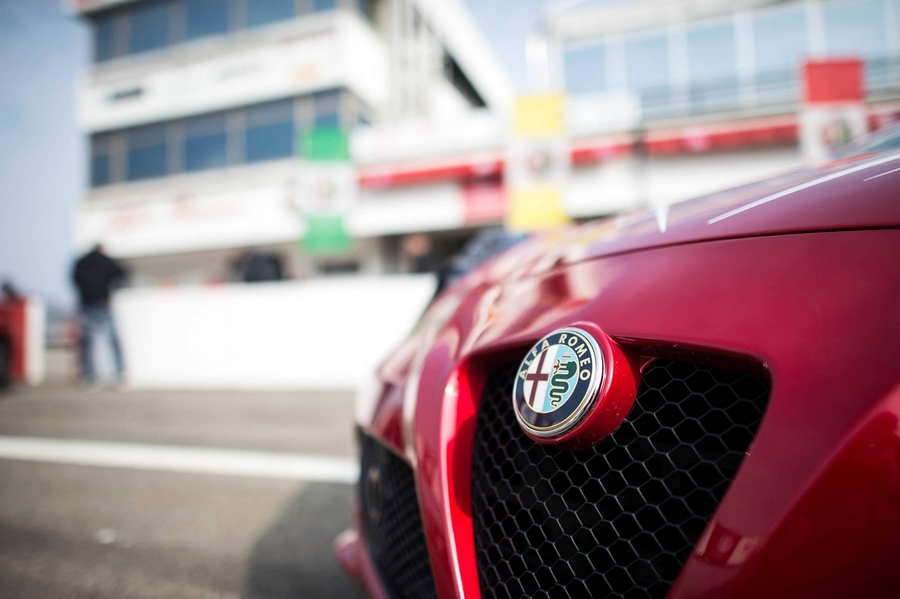 Thanks to its mid-engine layout, advanced technology and compact size, the all-new Alfa Romeo 4C Spider demonstrates its precision, agility and performance credentials with a top speed of 160 miles per hour (mph), 0-to-60 mph in 4.1 seconds, 1.1 g of lateral acceleration and 1.25 g of maximum braking deceleration.
Delivering the ultra-lightweight architecture needed for maximum performance and dynamic efficiency, Alfa Romeo engineers looked to Formula 1 and only the most advanced supercars for state-of-the-art materials. The result is a monocoque chassis made entirely of unidirectional, "pre-preg" carbon fiber layers that are hand-laid for extraordinary stiffness and strength. At 236 pounds, the highly exotic carbon fiber monocoque chassis delivers a material performance that is three-times stronger and seven-times lighter than steel. Completing the competition-grade architecture are front- and rear-chassis structures and an engine-mounting frame made from lightweight aluminum.
The engine beats to an innovative, all-aluminum 1750 turbocharged and intercooled engine with dual (intake and exhaust) continuous variable-valve timing that delivers 237 horsepower – or an impressive 136 horsepower per liter.
The 2015 Alfa Romeo 4C Spider arrived at dealerships with a Manufacturer's Suggested Retail Price (MSRP) of $63,900 (excluding $1,595 destination).