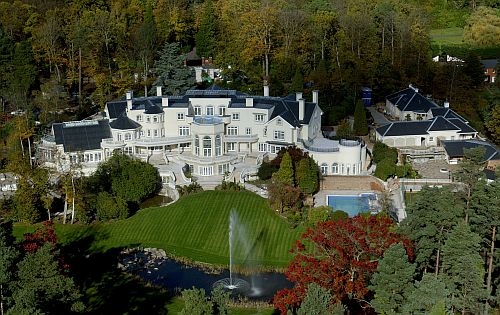 UK's most luxury home finally sells for £35 million
An opulent Surrey mansion which has been on the market since 2005 has finally sold for less than half its original asking price.  Updown Court was once expected to fetch £75 million but has now sold after six years on the market for just £35 million.  The notoriety of the unsold house became so great that one observer told the Sunday Times it was 'one of the most undesirable properties that has ever been on sale'.
Earlier this year, owner Leslie Allen-Vercoe defaulted on the debt he had taken on to finance the property back in 2002 and the Irish government took over ownership of the huge mansion.  The ex-estate agent bought the 58 acre estate nine years ago for £20 million before spending a £30 million developing it into arguably the UK's most luxury home.
Since the Irish bank had recently passed into the hands of the Irish National Asset Management Agency, the Irish government sold the property to a foreign businessman.
The property is set in 58 acres and includes a cinema, bowling alley, five swimming pools – including one attached to the master bedroom – and a helipad.  Mr Allen-Vercoe, once said: "If Elton John were a house, he'd be Updown Court."
However, the house has failed to attract any interest over the last few years meaning the price has regularly been slashed.
As well as the high value, buyers were also put off by the cost of maintenance on the house which is thought to cost £1million a year.  Updown Court is also close to the M3 motorway which provides constant background noise.
[adsenseyu1]
More:  homes go fast | sunday times