Minimalist, but never cold, and always connected with the sea – superyacht Ocean Paradise launched by Benetti.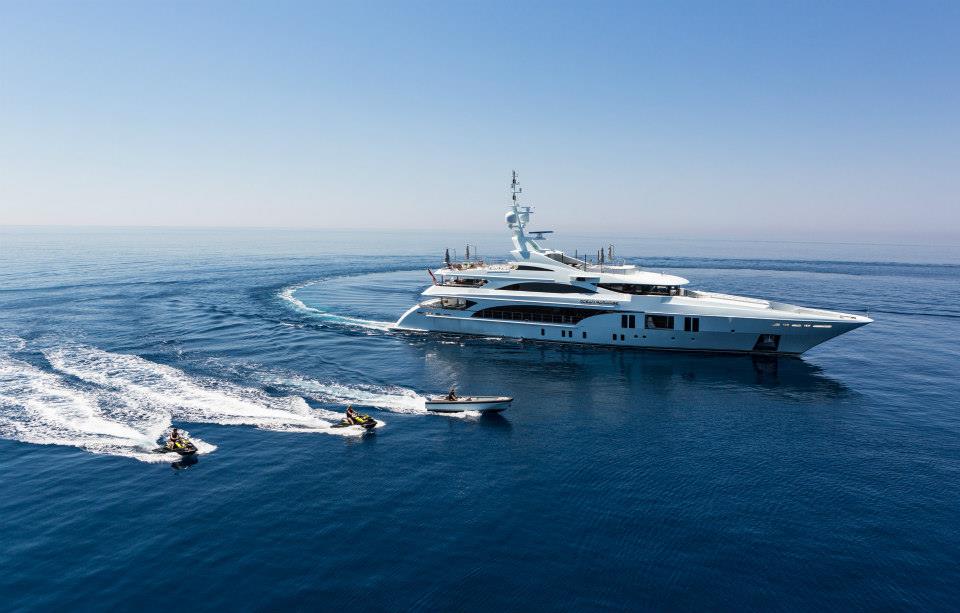 This new creation of the Italian boat manufacturer Benetti, a 55M steel hull/aluminum superstructure , will debut with its world avant-premiere at the next Monaco Yacht Show 2013 (25-28 September). The design boat at the leading edge of technology was named by its wealthy owner from Singapore – Ocean Paradise. The innovations focus especially on partitioning, interior design, decor and fitting out.  A home automation system manages the 55 meters long protagonist of the next nautical season.
Assembled in the Livorno boatyard in Tuscany, the mega yacht features four guest cabins with marble bathrooms and a main suite with its own terrace. A private home beach club equipped with solarium, waterfall pool, gym and mini bar with DJ mixing tables, awaits the owner on the upper deck.
Each cabin has its own spacious bath, and a view of the sea is guaranteed by ample portholes. The Owner's suite is located on the forward portion of the main deck, and stretches the full width of the yacht. This environment, both in size and position, is also unique for aspects such as expansive bathroom suite and a side terrace (balcony). Here, like in the rest of the vessel, an intense study by the lighting design team has created just the right atmosphere. This results from the use of LED and LED RGB, skillfully hidden in the cladding and managed by sophisticated, yet simple to use systems managed by exclusive Benetti BEST System.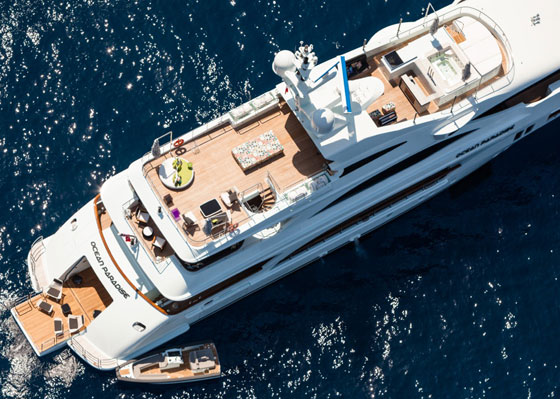 For his yacht the Owner has commissioned details such as the wardrobe door handles (designed by the winner of a design competition), light switches, light fixtures, automatic hatch and panel latches, chromatic contrasting leather stitching, completely clad leather interiors for lockers, and the many "hidden" storage areas perfectly integrated among the various environments.
The design motive of every area, even the smallest and least visible, has been customized by the Owner to ensure coherency with the entire project's inspiration. This is also true on above decks, where we find an oversize swimming pool with waterfalls on the sun deck, and furnishings that suggest natural environments and facilitate the view of the sea. There is also a gym on the sun deck which dominates the ocean, and a mini bar with DJ console.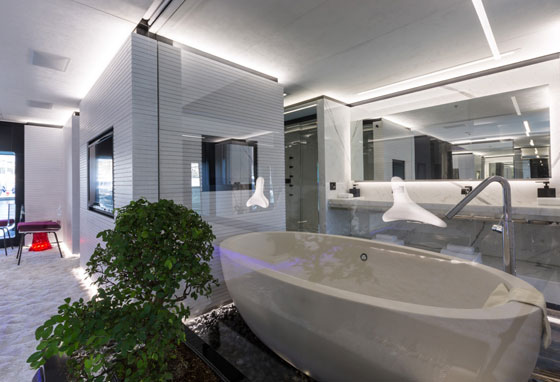 Technically, Benetti Ocean Paradise – FB263 keeps to a classic configuration: steel displacement hull, with a displacement of 651 tons and 710 gross tonnage; two CAT 3512C (1765 kW) motors with 2,367 horsepower, which always guarantee the best yacht's performance and navigation efficiency at every speed. Cruising range is 4,000 nautical miles at an economical cruising speed of 12 knots, with an easily reachable top speed of 17 knots and a fast cruising speed of 15.5 knots using 85% of the available propulsion power.