Novotel and Microsoft have designed a funky room of the future. You can stay in this temporary room until February 14, 2012 at the Novotel Paris Vaugirard, a hotel group which has close to 400 hotels and resorts in 60 countries.
Technological innovations and new experiences are all packed into this hotel room that won't last, where you can relax and rest, and be surprised too.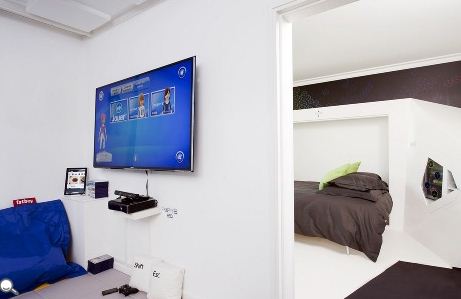 "Room 3120″ concept at the Novotel Vaugirard Montparnasse in Paris contains technology from Microsoft including Kinect, Xbox, Surface, etc. The guest will be able to control the room environment with body gestures and voice recognition and will have high tech entertainment area. 3120 room is colourful and has a high-tech bed that rises up on one side to form a bench containing a Surface table with games and various multimedia applications.
The creators of the room of the future are targetting at both business travellers and families to book this room of future with €199 a night, room for up to 2 adults and 2 children under 16.
[adsenseyu1]