Talc Gourmand, Sweet Musk and Vetiver Incenso are 3 new niche frangrances from Farmacia SS Annunziata dal 1561. All three fragrances (available as 250 ml Eau de Parfum) come with a separate, elegant and vintage-inspired pump.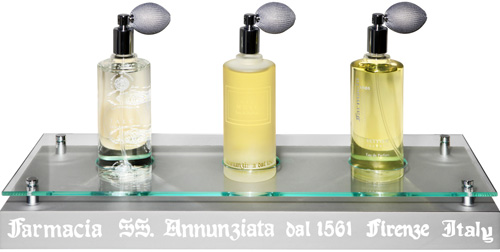 Farmacia SS Annunziata Talc Gourmand fragrance is reminiscent of sweet baby powder scent. Its top notes are talc, caramel and honey. The heart is composed of vanilla, heliotopin, talc powder and chocolate, while the base notes include tonka bean, sandalwood and vanilla.
Farmacia SS Annunziata Sweet Musk is very classic and musky, opening with a floral accord of jasmine, followed by rose and musk in the heart. The base notes are amber, patchouli and vanilla.
Farmacia SS Annunziata Vetiver Incenso is an elegant masculine fragrance with woody accords of vetiver as its main ingredient. The top of the composition sparkles with fresh notes of lemon, grapefruit, bergamot and ginger. The core consists of pink pepper, juniper, vetiver and incense. Base notes are vetiver, incense, cedar, patchouli, amber and oak moss.
In 1561 the herbalist and chemist Domenico di Vincenzo di Domenico Brunetti, member of the Guild of Physicians and Drugists moved his business to a former Apothecary's premises owned by the Benedictine Nuns of S. Nicolò. This is the first record mentioning the birth of Farmacia SS Annunziata.
The apothecary which was documented in 1561 still exists, with white ceilings and dark wooden shelves decorated with apothecary jars from the 1800's. Although it preserves its old traditions, the pharmacy uses modern machinery and new materials to make high quality, customized products.