Heesen releases more details of superyacht Serenity, the largest Heesen displacement yacht to date
Superyacht Serenity Handed Over by Heesen Yachts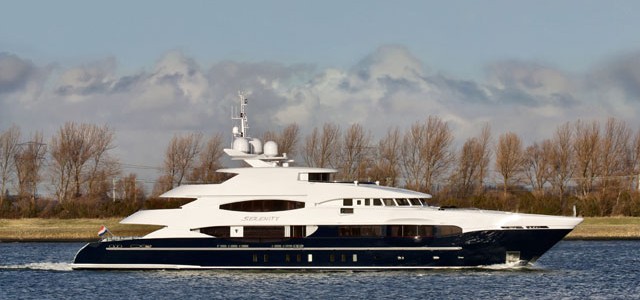 Following a spirited sea trial at the end of 2011, The 180-foot (55-meter) Heesen Serenity is now in the hands of her owner.
A superyacht specifically engineered to handle transatlantic crossings, Heesen Serenity encountered winds of force 6 to 7 during her sea trial and swells of nearly 10 feet (3 meters). To put it into perspective, force 6 winds are 22 to 27 knots, while force 7 winds are close to those of a gale, blowing 28 to 33 knots.
Even with that, Hans Doodkorte, the owner's technical manager, says, "She easily exceeded her design speed, so overall I am very happy that we will deliver a yacht that will be well suited for world traveling." A full-displacement yacht with naval architecture by Heesen and Van Oossanen & Associates, Serenity is said to be capable of a 15-knot top end at half load. Range should be 6,000 nautical miles at 10 knots, powered by twin MTU 12V 4000 M60 diesels.
Twelve guests are amply accommodated in six cabins aboard Heesen Serenity yacht. The Owner's suite is traditionally located on the main deck forward, but its layout is right up-to-date; a vast circular master bedroom boasts balconies on both sides and floor-to-ceiling windows bathing it in light. A studio plus bathroom with a sumptuous central oval bath tub and adjacent shower stall completes the master suite. The lower deck accommodates the guests: the full-beam VIP cabin has a full-sized tub, the two double and two twin cabins have shower rooms. Guests can choose between sun and shade, heat or cool on the sundeck. As well as having sun-bathing pads and a mosaic custom Jacuzzi pool outside, there is also an enclosed spa area complete with steam bath, sauna and massage room.
More on megayachts: charterworld| mega yacht news