A sneak peek of the new infinity pool at London's most anticipated address. Now open: the 52nd-floor infinity pool at Shangri-La Shard, London
A stunning infinity Skypool is now open 52 floors above ground level in the sleek Gŏng bar at Shangri-La Hotel, At The Shard, London – making it the highest pool in Western Europe.
Facing west across the City, the 11×4 metre heated pool features stunning views of St Paul's Cathedral, the London Eye and Westminster, providing the perfect spot to enjoy the iconic vistas.
Feeling on top of the world, from 8:30 p.m. onwards Gŏng guests can enjoy a spot of sophisticated poolside glamour while they sip on signature creations from the dedicated cocktail bar such as the Bermondsey Bubbles – Jensen's Dry Bermondsey Gin, Rose liqueur, creole bitters and champagne; or the award-winning Black and Blue Swizzle – Talisker, honey, lime, PX sherry and blue cheese.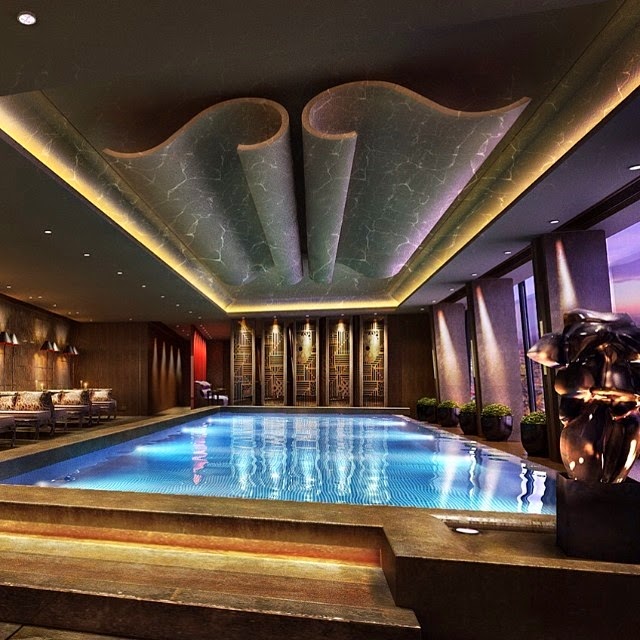 Champagne lovers can enjoy a wide selection from the champagne bar, from rare grower varieties up to the ultimate Grand Marques, and indulge in luxury bar snacks such as Cornish crab, foie gras and a selection of the finest caviar. The 30-cover poolside area can also be hired exclusively for the most spectacular sky-high party, announced Shangri-La London.
Designed by Andre Fu of AFSO, Gŏng is inspired by the mythical aspect of 'dou-gong' – a series of interlocking brackets that are used extensively in historical Chinese architecture. The Skypool fits seamlessly with the traditional Eastern design combined with modern Western glamour and an oversized 'paint scroll', measuring a length of 15 metres, appears to float overhead.