---
This article titled "Sweet in the middle: map reveals Americans' art tastes, state by state" was written by Jonathan Jones, for theguardian.com on Tuesday 23rd December 2014 12.30 UTC
This is the time of year, if there ever is a time of year, to look at the art of Terry Redlin. This American artist loves Christmas. He paints cute Christmas scenes laden with snow and fairylit windows, reindeer, Santa, and the sun glistening over the whole bizarrely daubed winter wonderland.
Never heard of Redlin? I hadn't either until I perused a map made by eBay showing the most searched-for artists by its US customers, state by state. Redlin comes top in a swath of midwestern states that form a solid column through the heartland of the map – North Dakota, South Dakota, Nebraska and Kansas.
So this is what they like in Nebraska. In Redlin's art, the American outdoors is a honey-kissed landscape of lurid illumination, where wildlife and weather are unceasingly lovely. He was consistently voted America's most popular living artist in the 1990s, but apparently his popularity has become more localised: he comes from Watertown, South Dakota, where the Redlin Art Center can be found.
The infographic created by eBay suggests that many Americans like middlebrow kitsch like Redlin's cosy, corny pictures. Over in Vermont and Massachusetts they prefer the godfather of American popular art, Norman Rockwell. That's a more pretentious kind of homespun fare. But Rockwell ultimately is as silly and sickly sweet at Redlin.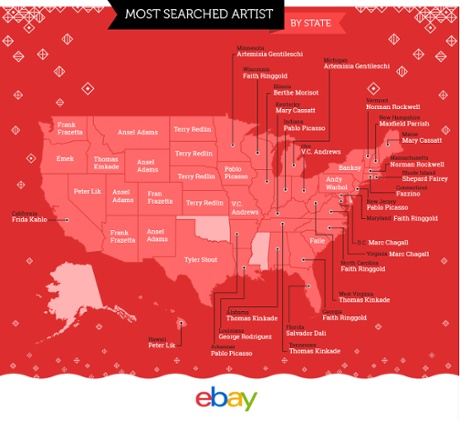 The critic Robert Hughes once asked how popular Andy Warhol is, really. He's not popular like sports artists, Hughes pointed out. But this survey of online bidding confirms that Warhol and other artists defined as pop by the art world are not that pop at all. Warhol only comes top in his home state, Pennsylvania. Meanwhile Peter Lik, the man who took the world's most expensive photograph, has two states, while Thomas Kinkade, the "painter of light" whose landscapes are even more coarsely overbrightened than Redlin's, rules several.
What is heartening is that Picasso and even the baroque mistress Artemisia Gentileschi get searched for too. In California people adore Frida Kahlo.
There is some good as well as bad news in this map. Serious art interests people in many places all over America. What does not really win hearts, not even back east, is of course the contemporary art world that looms so large in the media, and is so small in people's actual experience. At least Terry Redlin can say he is loved. But who loves Jeff Koons?
guardian.co.uk © Guardian News & Media Limited 2010
Published via the Guardian News Feed plugin for WordPress.