The world of digiscoping accessible to iPhone 6 owners.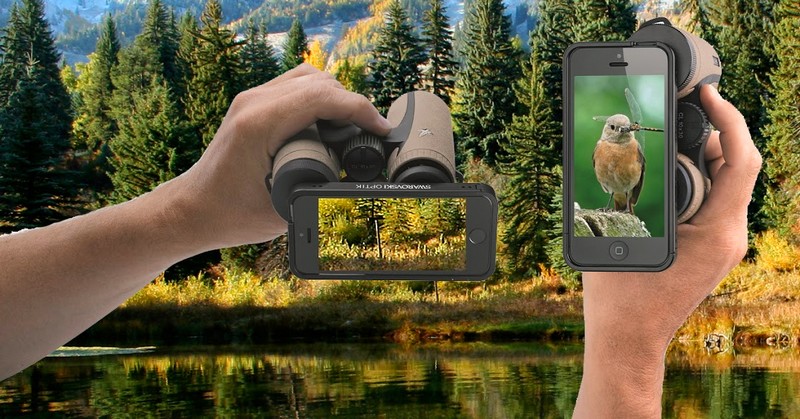 Wildlife and bird watchers and sporting enthusiasts are now able to capture their memorable experiences and close-up shots on their iPhone 6 device.
The SWAROVSKI OPTIK iPhone adapter is now also available for the iPhone 6. The PA-i6 adapter for iPhone is used to attach SWAROVSKI OPTIK spotting scopes and binoculars to the iPhone in a single motion to produce telephoto zoom lenses, thus making digiscoping accessible to even more users. You can successfully take enchanting close-up shots that capture the moment forever in an instant, no matter whether you are observing wildlife and birds, out hunting, enjoying some free time, or on your travels.
The assembly process for the PA-i6 is just as quick and easy as before – you attach the adapter to the relevant eyepiece cup. Suitable adapter rings are available for a wide variety of SWAROVSKI OPTIK spotting scopes and binoculars. The PA-i5 adapter rings can also be used for the new PA-i6 adapter. If the adapter ring is removed after digiscoping, the remaining aluminum frame provides elegant, top-quality, and robust protection for your iPhone* in everyday use. You can still quite easily slip your iPhone* in any one of your pockets without getting the protruding components caught.
The adapter is compatible with the iPhone 6* and with the following binoculars and spotting scopes from SWAROVSKI OPTIK: CL Companion, EL family (32, 42, 50), new SLC family (42, 56), EL Range, ATX/STX, ATS/STS, and ATM/STM. All the iPhone's operating features are available while using the adapter and the specially designed strap ensures the iPhone is secure.