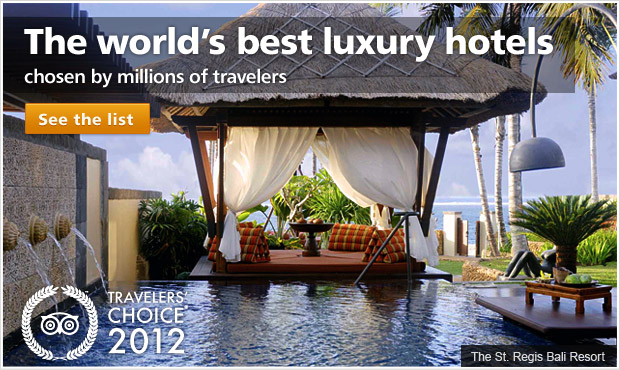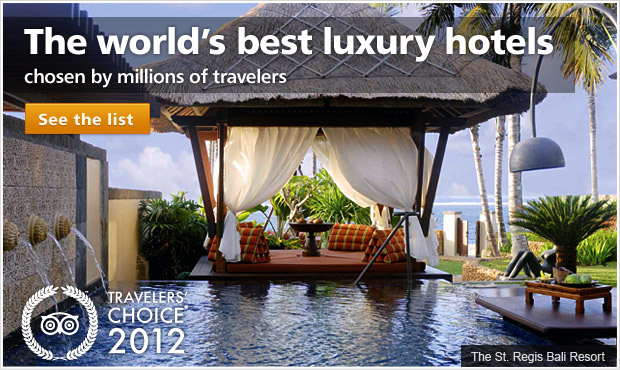 Seeking remarkable properties around the world? Take a look at the TripAdvisor's 2012 Travelers' Choice awards in the Luxury category.
This 10th annual awards has revealed premier properties in the world, in addition to winners in the categories of Best Luxury and Bargain, Best for Service, B&Bs and Inns, All-Inclusive, Spa, and Trendiest. In total, 3,943 properties globally have been recognized this year with dedicated lists featured for 30 countries and eight regions worldwide. Unlike any other hotel honors, TripAdvisor Travelers' Choice winners are based on millions of valuable reviews and opinions from travelers around the world.
As TripAdvisor, one of the world's largest travel site, has continued its growth globally, featuring sites in 30 countries and in 21 languages, the Travelers' Choice Hotels awards now highlight a broader range of spectacular properties across the globe. This is TripAdvisor's biggest awards ever, with lists covering 19 new markets and expanded categories from "Top 10" to "Top 25" winners.
The world's Best luxury hotels of the world 2012 chosen by millions of travellers: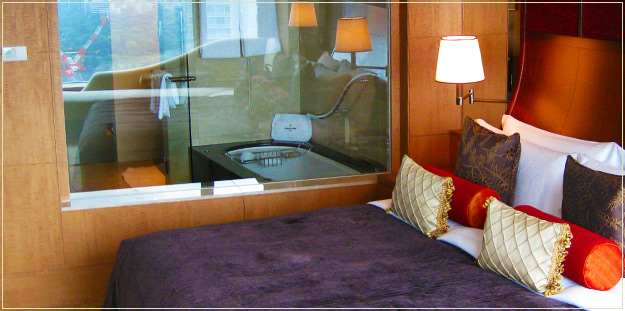 1  Shangri-La Hotel, Tokyo, Chiyoda, Japan
2. Hotel Imperial Vienna, Vienna, Austria
3. Hotel Palacio de la Magdalena, Soto del Barco, Spain
4. La Casa del Rector, Almagro, Spain
5. The Grand Del Mar, San Diego, California
6. Antuquelen Hosteria Patagonica, Antuquelen Hosteria Patagonica, Villa La Angostura, Argentina
7. The Ritz-Carlton Osaka 7, The Ritz-Carlton Osaka, Osaka, Japan
8. The Dorchester 8, The Dorchester, London, United Kingdom
9. Rockliffe Hall 9, Rockliffe Hall, Hurworth-on-Tees, United Kingdom
10. The St. Regis Bali Resort 10, The St. Regis Bali Resort, Nusa Dua, Indonesia
11 The Langham, Melbourne, Melbourne, Australia
12 The Ritz-Carlton, Berlin, Berlin, Germany
13 Al Bustan Palace, a Ritz-Carlton Hotel, Governorate of Muscat, Oman
14 Quinta de San Amaro, Meano, Spain
15 The Ritz-Carlton Powerscourt, County Wicklow, Enniskerry, Ireland
16 The Ritz-Carlton Tokyo, Minato, Japan
17 Grosvenor House Dubai, Dubai, United Arab Emirates
18 Mandarin Oriental Munich, Munich, Germany
19 Alchymist Grand Hotel and Spa, Prague, Czech Republic
20 Grand America Hotel, Salt Lake City, Utah
21 Waldorf Astoria Chicago, Chicago, Illinois
22 Schloss Velden, a Capella Hotel, Velden, Austria
23 Sandy Lane Hotel, Saint James, Barbados
24 Hotel Taschenbergpalais Kempinski, Dresden, Germany
25 Mandarin Oriental, Bangkok, Bangkok, Thailand