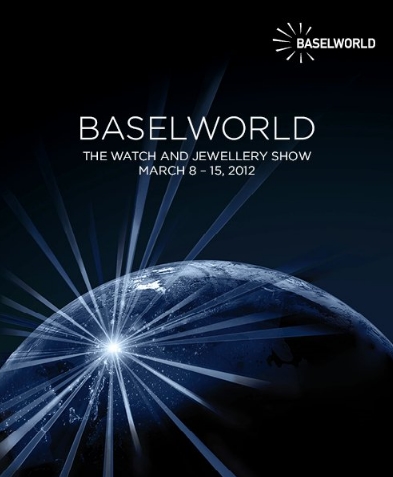 Each spring, some 1800 companies from the watch, jewellery and precious-stone industries, together with related sectors, showcase their latest developments and innovations in Basel. The world's most renowned brands display their collections exclusively at BASELWORLD.
About 100,000 visitors from the specialist retail and wholesale trade make their way to Basel from all over the world to
discover the current trends and view the latest creations from the watch and jewellery sectors. The presentation staged at BASELWORLD is truly unique, providing an opportunity to experience brand worlds at the topmost level.
Enjoy some of the 2012 Baselworld novelties brought by Antoine Preziuso, Chopard, Frederique Constant, Dubey & Schaldenbrand, De Bethune, Alpina, Christophe Claret, Artya and many other horological brands.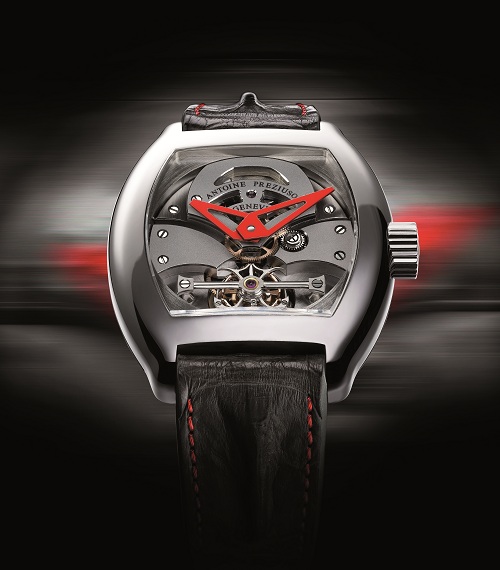 ANTOINE PREZIUSO GTS Grand Tourbillon Sport watch
For several years now, Antoine Preziuso has made his Haute Horlogerie "Art of Tourbillon" collection a showcase for numerous unique creations that take this prestigious complication, a favourite for the independent watchmaker, as their focus. The Grand Tourbillon Sport is, without doubt, the most sporting timepiece to join this exclusive line. Its aerodynamic form suggests the contours of racing cars while its dazzling red javelin-shaped hands suggest speedometers. Its case, measuring 52 x 45 mm, is crafted from ChromeCobalt (Co-Cr), an exceptionally resistant, high-tech alloy. It contains the APG/28T tourbillon calibre.
Antoine Preziuso further innovates with an original sales concept: his watches are only available from the brand in Geneva. You don't live in Switzerland? Not to worry: your flight in business class and two nights in a luxury hotel will be reserved for you when you purchase your watch.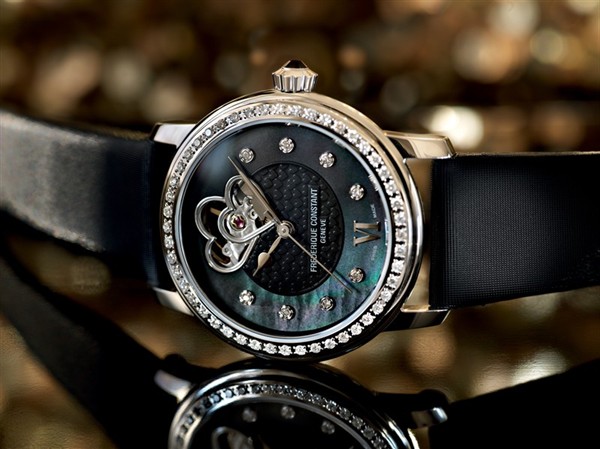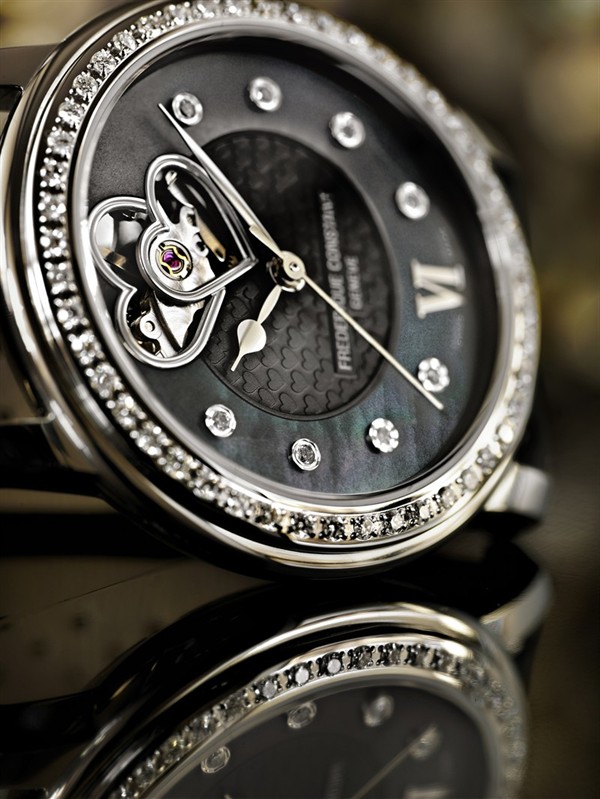 FREDERIQUE CONSTANT Black Beauty watch
Frédérique Constant presents Black Beauty. This elegant new interpretation in the Heart Beat collection once again lends full significance to the expression, "the movement's beating heart." A hallmark of the brand, two openworked, interlacing hearts in the dial offer a glimpse of the automatic movement. The black mother-of-pearl dial with shimmering blue accents, the diamonds that circle the bezel, and the satin strap add the final touch in reflecting the values and aspirations of women today.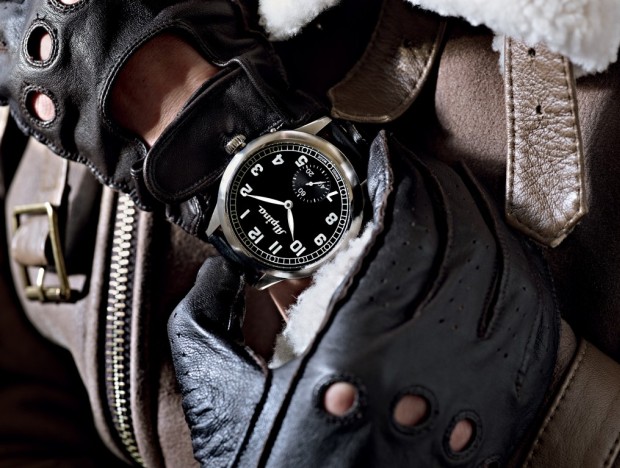 ALPINA Heritage Pilot watch
Heritage Pilot is a contemporary rendition of Alpina's 1920s and 1930s pilot's watches that conserves many of the original characteristics, from the hand-wound pocket-watch calibre to the applied hourmarkers and Alpina logo on the dial, or the hinged back that reveals the movement when opened. Other features, meanwhile, have been upgraded to meet modern standards. The precision of the movement has been honed and the case is crafted from stainless steel. Sobriety is at the heart of this timepiece, with its mat black dial, luminescent hands and off-centre seconds at 6 o'clock. Produced as a limited series of 1,883 pieces, this classic watch pays tribute to the brand's rich past, and promises great things for the future with its resolutely up-to-date vintage style!
DUBEY & SCHALDENBRAND Grand Dôme DT Vintage 1946 watch
Jonatan Gil continues to play with styles with this interpretation of the Grand Dôme DT. Recognisable at a glance with its tonneau case and the vertical arrangement of the different functions on the dial, the chronograph adopts an elegantly vintage design. The harmonious curves of the imposing 37 x 52 mm case are unchanged, matched with the Valjoux 7751 calibre to power date, day, month and moon phases.
The movement is now delicately hand-engraved and embellished with the coat of arms from the Swiss village Les Ponts-de-Martel, where the brand originates. The dial is an expanse of ivory colour for purity and discretion. Contrasting textures and volumes have given way to an elegant interlacing of circles and tonneau-shaped counters. A journey back to historic and aesthetic origins for this 65-piece limited series.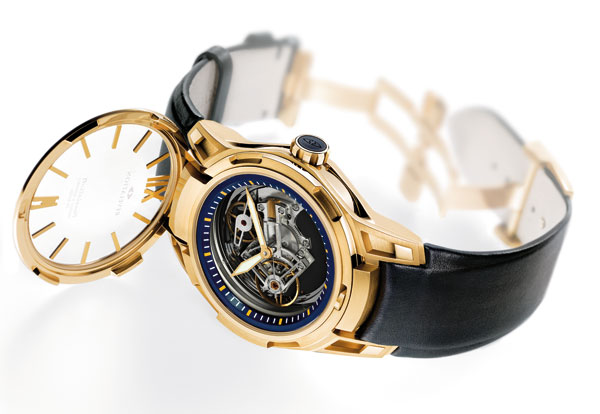 REVELATION R01 Double Complication watch
The R01 Double Complication is the debut launch from REVELATION. The movement of this Haute Horlogerie timepiece mysteriously appears thanks to an ingenious patented system. A secret catch within the case releases the bezel which triggers the first of the two complications: the REVELATION System®. Unique in watchmaking, this mechanism comprises two polarised crystal discs that connect with a double differential to gradually reveal the second complication, the Tourbillon Manège. This authentic "manufacture" movement is entirely hand-finished. Form meets function for the exceptionally distinctive case which interacts perfectly with the two complications. Each metal is proposed as a 15-piece limited series.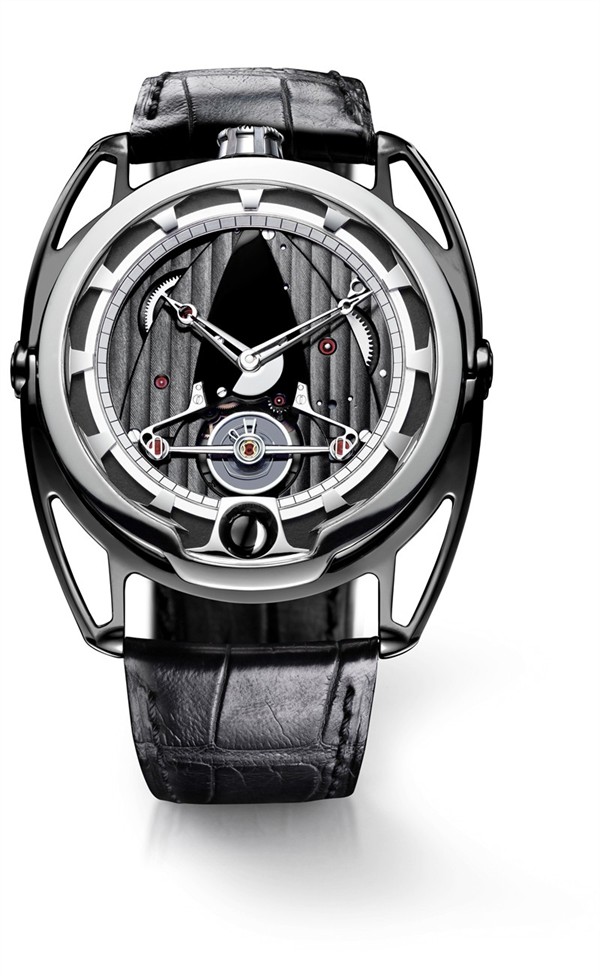 DE BETHUNE DB28 "Aiguille d'Or" watch
The manufacturer is now revisiting its award-winning creation by issuing it in a 50-piece limited edition. The characteristic aesthetic of the DB28 "Aiguille d'Or" is enriched with a pink gold baguette set into the minutes hand. The specific pocket watch-inspired shape of the titanium case, accentuated by the spherical moon and the silicon/palladium balance, features an exhibition back revealing a finely decorated movement. This exceptional timepiece radiates a pure, understated style based on taut lines, delicate hand-crafted finishes and a slender case, skilfully associated with technical innovations to provide a contemporary expression of the watchmaking art according to De Bethune.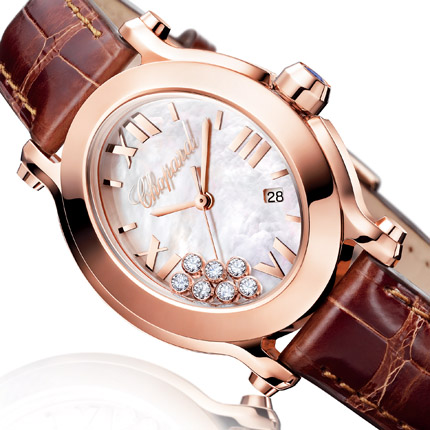 CHOPARD Happy Sport Oval watch
Since its launch in 1993, the Happy Sport collection has cultivated a special relationship with women. The Geneva-based House now presents an oval interpretation of this grand classic. This extremely feminine watch is fitted with a new case featuring modernised proportions that enhance its elegance and comfort. Its pure, sleek, sophisticated and resolutely streamlined silhouette endow this model with a truly sensual aura. 7 playful moving diamonds whirl around on its dial. This object of desire makes an ideal companion for contemporary women; more than a mere accessory, it offers a reflection of life and movement.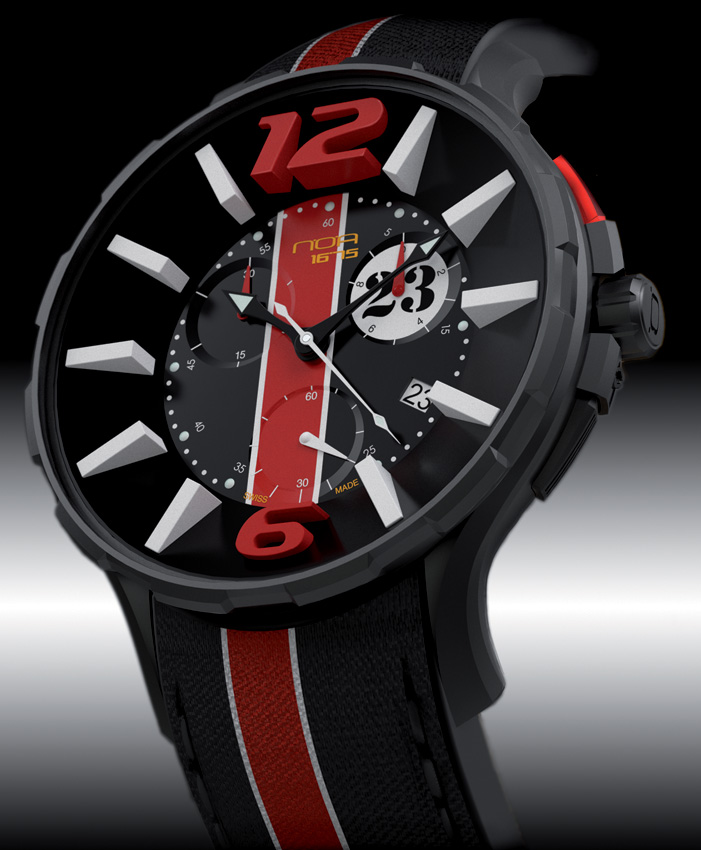 N.O.A – GRT 001 Le Mans watch
GRT 001 Le Mans is the first of five limited editions dedicated to the world's most prestigious racing tracks. N.O.A pays
tribute to each of these venues by displaying in the 2 o'clock counter the year of the first race held there – in this case 23
for Le Mans, which began in 1923. Each 200-piece limited edition radiates a sought-after blend of style, sportiness and
innovation.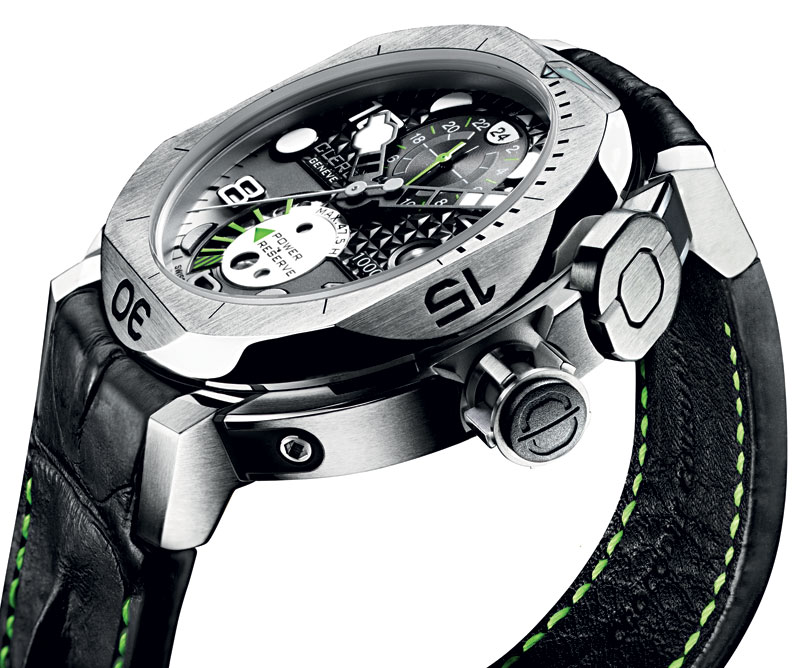 CLERC Hydroscaph Steel GMT watch
One of the most sophisticated contemporary diver's watches, the new Hydroscaph Steel GMT, water-resistant to 1,000 metres, reinvents deepsea sports. This timepiece faithfully reflects the stellar collection from Clerc Genève, while exalting the keys to its success: its highly distinctive octagonal-shaped case and its extreme readability even in the darkness prevailing atgreat depths.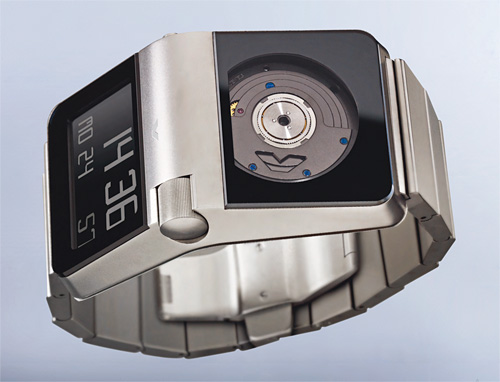 VENTURA SPARC MGS watch
The inventor of the Automatic Digital Watch introduces another significant advancement: The multifunctional SPARC MGS, which contains two separate manufactured movements. While the mechanical Micro-Generator-Sytem (MGS) transforms wrist-movements into electric energy to power the digital time-module, the ingenious EasySkroll operating system governs the multiple functions, such as the 100-year perpetual calendar or dual time zone, alarm, countdown or chronograph in a most intuitive way by a single scroller. The ergonomic architecture of this unusual timepiece was awarded with the international Good Design price 2011 in Japan.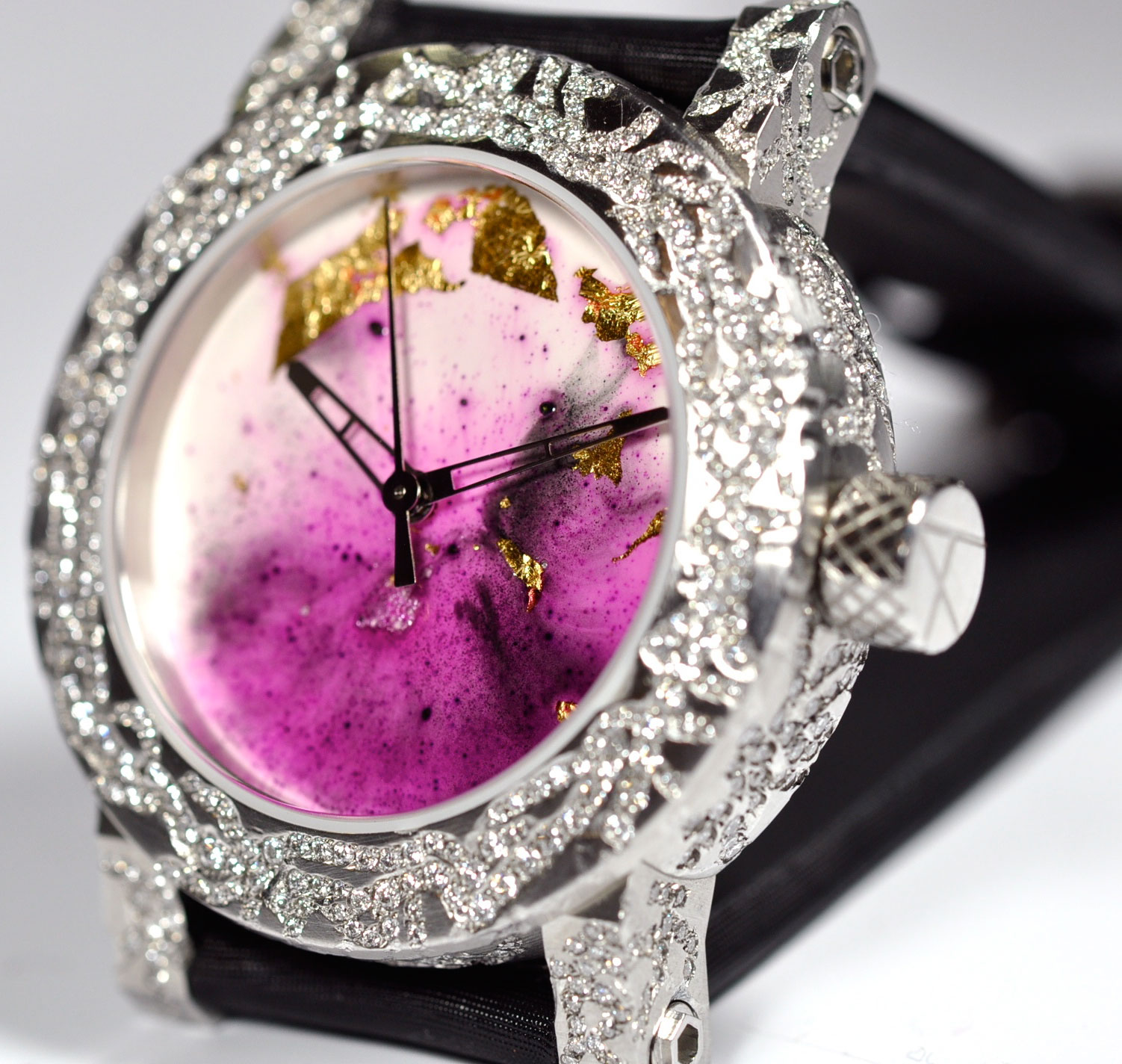 ARTYA 1/1 Set watch
The latest ladies' model from ArtyA features a number of stunning visual effects and offers further proof that Yvan Arpa is never short of inspiration. The steel case is set with 725 diamonds totalling a radiant 3 carats. This meticulous jewellery work is done in Geneva. Nonetheless, the real show-stopper is the dial crafted in a noble material from Essaouira, Morocco – murex, a shell from which its rare purple mother-of-pearl is extracted. Whether in ancient times when the Phoenicians used it to dye luxurious fabrics or today on ArtyA dials, purple is the exclusive preserve of a fortunate few. And as if that were not enough, it is associated here with gold leaf in this striking encounter between exceptional rarity and refined elegance.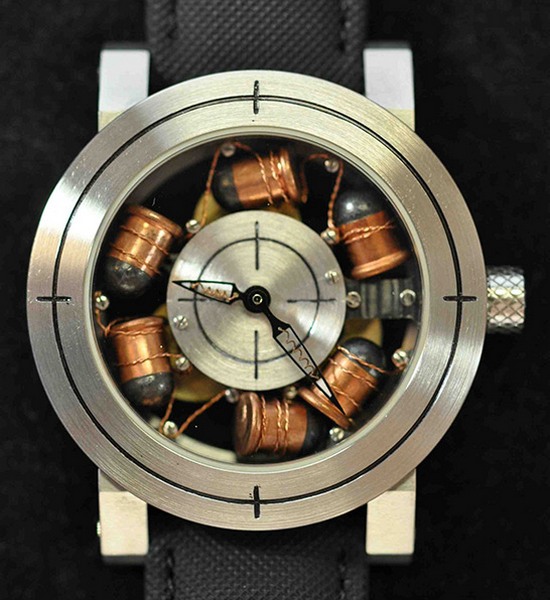 ARTYA Son of a Gun Black Edition watch
Bullets don't always kill people, time always does. Such is the provocative statement on which Yvan Arpa has based his latest creation. Son of a Gun is an original match between watchmaking and the world of firearms. This world-first model houses six real 6 mm Flobert bullets suspended between the dial and case. The dial and bezel represent a target. Behind them, the oscillating weight of the Swiss automatic movement is ballasted by three special 38 mm bullet cartridges. A redoubtable horological "weapon" signed by the brilliant Yvan Arpa.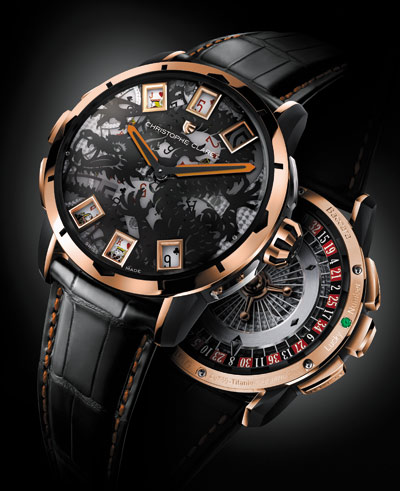 CHRISTOPHE CLARET Baccara watch
Christophe Claret's fascination with gaming knows no limits! Introducing Baccara, whose exclusive movement incorporates its own miniature casino. Place your bets at baccarat, roulette or craps, all with visual and sound effects. Blow on the sapphire crystal and a mystery Chinese ideogram appears. Christophe Claret has produced an exciting piece of horological art, proposed in several combinations, each limited to 9 pieces.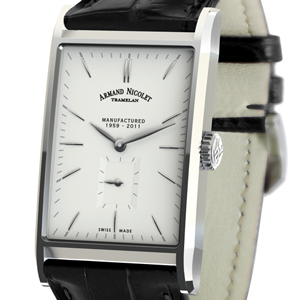 ARMAND NICOLET – L11 watch
The L11 Manufacture collection stylishly retraces the brand's horological expertise. Housed within the first rectangular case from Armand Nicolet, time ticks by at the pace of original 1959 movements entirely reworked by the in-house artisans. High-quality materials and meticulous finishing add an elegant touch to the wrist of contemporary men. A timeless touch issued in a 499-piece limited edition corresponding to the number of vintage calibres available.