Singapore's Summer Pavilion Restaurant  Awarded Its First Michelin Star.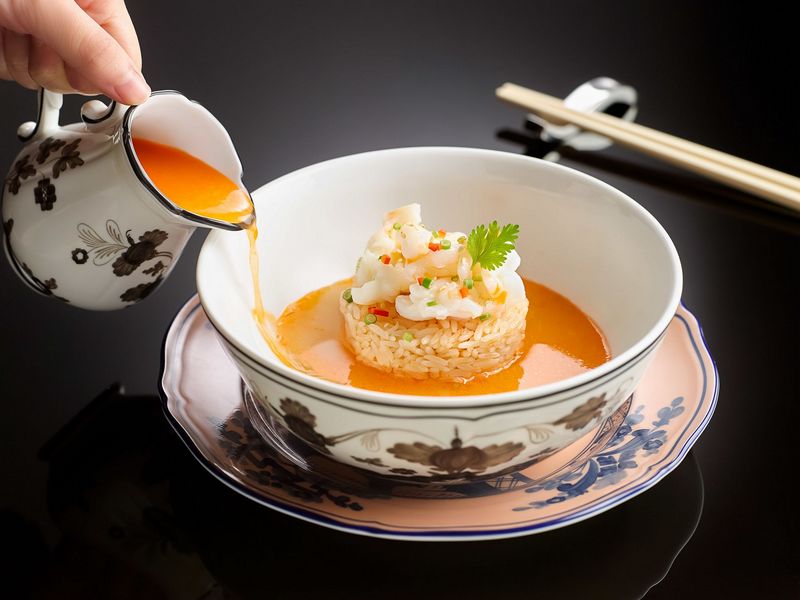 Singapore is a city that is well known as a gourmand's paradise. The inaugural Michelin Guide Singapore 2016 reflects the richness of the gastronomic scene in this South East Asian city. As proof of the high quality of the local and international cuisine in Singapore, the MICHELIN guide awarded one restaurant three stars, six restaurants two stars and twenty-two restaurants one star. Among them, Asian street food and Australian cuisine are starred for the first time ever.
The Ritz-Carlton, Singapore signature Cantonese restaurant, Summer Pavilion has earned its first Michelin Star in the inaugural Michelin Guide Singapore 2016. It is the only Chinese restaurant in a hotel in Singapore to receive this accolade.
Chef Cheung Siu Kong has been with the restaurant since 2003. In 2014, he was appointed Chinese Executive Chef and underwent a relentless drive toward culinary perfection to propel the restaurant to Michelin heights. Following an extensive transformation in late 2015, Summer Pavilion became a contemporary restaurant with six exquisite private dining rooms.
"My cooking philosophy is simple. I believe that the key to creating authentic Cantonese dishes is through modest cooking techniques which bring out the natural flavours of the ingredients. Having been in the industry for more than 25 years, my passion is fueled whenever I see the smiles on the faces of guests after they taste my creations," said Chef Cheung.
In celebration of winning this prestigious accolade, Summer Pavilion has launched special menus which feature some of Chef Cheung's signature dishes. These include the barbecued Iberico pork with honey sauce, marinated South African abalone with roasted sesame dressing, double-boiled sea whelk soup with fish maw and chicken served in a whole coconut, poached rice with lobster and sautéed diced Japanese wagyu beef.
This first edition of the Michelin Guide Singapore picks out a three star restaurant, Joël Robuchon, where the chef offers refined, contemporary French cuisine in a majestic art-deco inspired dining room.
"From the quality of the ingredients – with only the best selected, to the finesse of the cooking, through to the impressive wine list that includes over 1000 references, the experience offered by the chef Joël Robuchon is quite simple exceptional! " commented Michael Ellis, International Director of the MICHELIN guides."
6 other establishments obtain two stars in this 2016 edition of the MICHELIN Singapore Guide: André, where the French trained, Taiwanese chef André Chiang, offers sophisticated, creative cuisine; l'Atelier de Joël Robuchon, which offers contemporary French cuisine just like Odette, where fine, elegant creations can be tasted and which was opened only a few months ago by chef Julien Royer or Les Amis, kept by chef Sébastien Lepinoy. Two other restaurants in this selection are also distinguished by two stars: Shoukouwa, where the Japanese chef relies on very high quality products to produce sushis like those tasted in Tokyo, and Shisen Hanten, the
of chef Chen Kentaro.
Finally the MICHELIN Guide inspectors distinguished 22 one star restaurants, including all cooking styles.