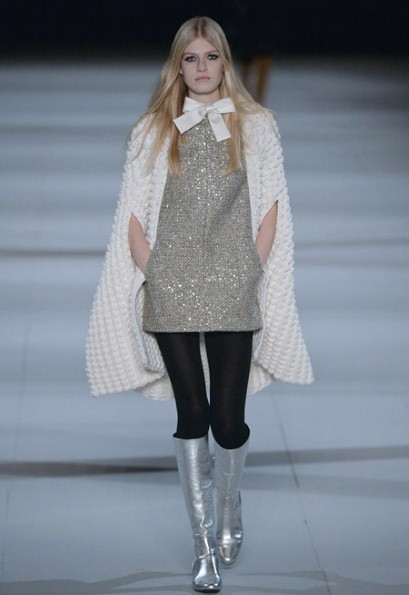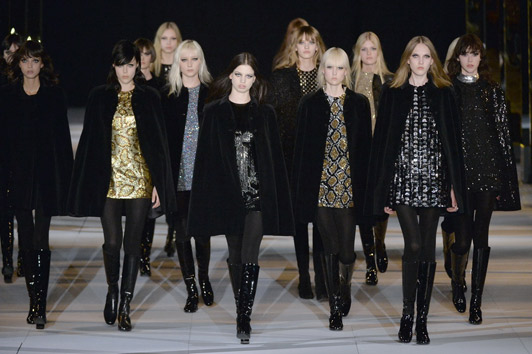 ---
This article titled "Slimane proves messiah for Saint Laurent devotees by reworking rock icons" was written by Lauren Cochrane in Paris, for The Guardian on Monday 3rd March 2014 22.16 UTC
The audience waiting for a fashion show to start is buzzing with the latest gossip. For the latest Hedi Slimane for Saint Laurent collection, however, there was a discernible hush, despite celebrities Alex Turner and Kate Moss sharing a bottle of champagne in the front row. A lot of the invitees here were holding their breath. Their messiah was about to showcase his latest take on rock'n'roll chic.
A series of gold bars sprang up from the catwalk to reveal it. The first model came out wearing a white three-quarter-length coat covered in sequins, paired with black tights and go-go boots. It was a bit sixties mod, very after-dark and a sign of things to come. Building on the aesthetic he has established since taking over at the French house in 2012, Slimane returned from his sojourn in the eighties last season to the loveworn rock'n'roll classics that come so naturally.
The mod theme was present in a black-and-white colour scheme on fur coats. The baby doll dress – the kind Marianne Faithfull wore in her ingénue phase, and that Alexa Chung is partial to – was a key shape. An embellished biker jacket worn by a peroxide blonde could be seen as a nod to Nico from the Velvet Underground, or Saint Laurent's muse Betty Catroux. Add Jane Birkin and Jean Shrimpton and Slimane's shows feel like a Tumblr of classic style icons, the kind the teenage rebels of each generation discover and revere. In the designer's hands, these references are digested and remade into luxury fashion.
Outerwear was strong and looked expensive – a PVC black mac was updated from a Carnaby Street staple with razor-sharp cutting, and Crombies and capes also appeared. The evening had sparkle. Three models in sequinned dresses boasted the link to the artist featured in the show's invitation, John Baldessari. The patterns on these limited-edition designs were inspired by his work using found objects.
Nothing that Slimane does is without purpose. In this tightly choreographed event, even the model opening the show was key. She also closed the show wearing a red sequinned party dress. Called Grace Hartzel, her name probably wasn't known to most people in the room – which is exactly the way Slimane likes it. According to a tweet for the house's official account, the show was "entirely made" in Hartzel's image. The teenager from the Midwest with long brown hair – also in the advertising campaign for the house – is now officially a star.
An enigmatic individual – Slimane skipped the customary designer bow at the end of the show – he combines his obsession with rock'n'roll icons with a hunger for the new, young and often obscure. The music for this show illustrates the point. It was created by Clementine Creevy, a teenage songwriter from LA, where Slimane bases his design studio.
Slimane's vision of Saint Laurent has certainly charmed the locals – those who populate Hollywood. At Sunday's Oscar ceremony, his designs were worn by notables ranging from Sky Ferreira, a regular in Slimane's roster of starlets, to Jared Leto, Ellen de Generes and Margot Robbie. The popularity showed versatility in the house's output. Ferreira's floor-length red gown contrasted with De Generes' classic Le Smoking suit. Away from the hoopla of the runway, either is a no-brainer choice. They provide easy elegance with a hint of rock'n'roll edge.
It's this formula that explains the success of Slimane. Like the refrain of a rock classic, these are clothes that feel familiar but are covetable for that very reason. Saint Laurent is currently the fastest-growing major brand in Kering, the conglomerate that also owns Gucci, Alexander McQueen and Stella McCartney. Sales in 2013 were up 22%, with the final quarter seeing a boost of 42%. Slimane's band of devotees is clearly growing.
• The headline on this article was amended on 4 March 2014 to correct a reference to YSL to Saint Laurent.
guardian.co.uk © Guardian News & Media Limited 2010
Published via the Guardian News Feed plugin for WordPress.