This project will offer an amazing selection of outdoor activities including onsite ski-in and ski out access plus a rich wellness offering.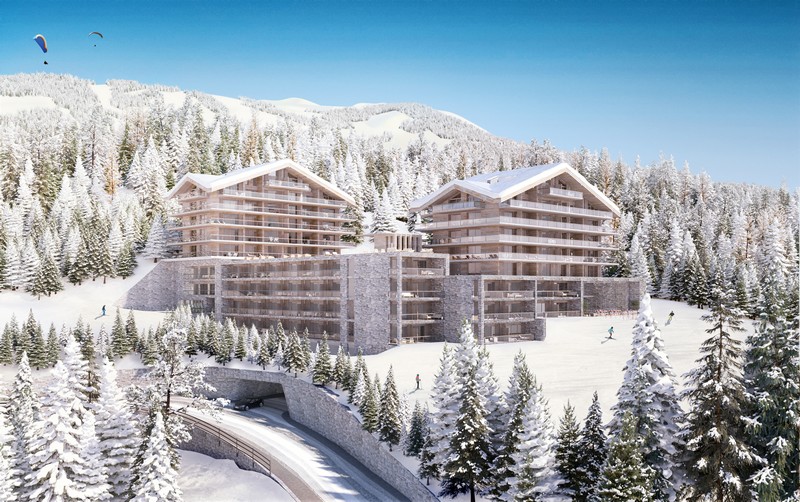 Upon completion, the 47–room Six Senses Crans-Montana will operate under a long-term management agreement. The resort marks a significant milestone for Six Senses development and will be in one of the region's most prominent ski areas. Located in the canton of Valais, Geneva is located two hours away by car and train.
The new high-end mountain resort accommodations include 47 guest rooms and suites, with 17 Six Senses residential units already available for purchase. They include three-bedroom loft units and four-bedroom configurations which are being sold on-plan. They have the special Crans-Montana provision that allows 13 of them to be bought by foreigners as second homes. This is one of the last construction projects in Switzerland that is able to offer residences for sale to foreigners.
Two restaurants are planned as well as a sun terrace and bar and retail space. Wellness offerings at the resort include a 22,000 square foot (2,000 square meter) spa specializing in alpine treatments, gym and fitness studio, pool and suspended relaxation area. The spa will also include a dedicated area for children and teen treatments.
Consistent with Six Senses sustainability focus, recycled, local materials will be selected by the architect and design teams and repurposed materials will be used in the manufacture of finishes including flooring, millwork and fabrics. Energy and water conservation also plays a key role in the project's design.
Efficient lighting, lighting controls, ozone protection and renewable energy sources will be featured at the resort. The design team is dedicated to establishing energy efficient systems and equipment integrated throughout the design, following Six Senses sustainability guidelines as a minimum. A black water and grey water system are to be included into the infrastructure of the project ensuring that wastewater is not wasted, but reused within the building operations. Rainwater will also be collected for treatment and
use.
Grégory Marchand, managing director of Barnes, the prestigious international property sales agents partnering with the development said, "Six Senses Crans-Montana is a unique project that gives a new dynamic to the location. Residents will have access to all the amenities of the hotel, which includes an internationally renowned spa, restaurants, fitness facilities and more. The overriding objective in the tourism policy is to attract and most importantly keep residents throughout the year.
The resort nicely complements Six Senses Douro Valley in Portugal, Six Senses Residences Courchevel in France as well as the seven award-winning Six Senses spas in Europe in Paris, Crete, Mykonos, Marbella, Gstaad, Courchevel and in the premium lounges of Etihad at London's Heathrow Airport.