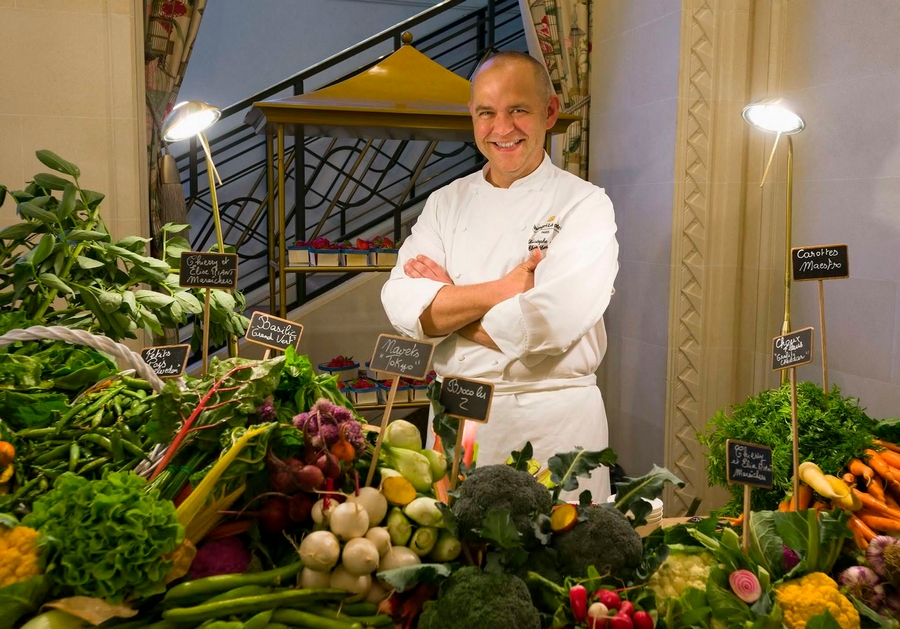 Shangri-La Hotel, Paris Executive Chef Christophe Moret has been cultivating his nature-driven cuisine since his arrival at the hotel in January 2015. As the grandson of a market gardener, it was natural for him to imagine a "Rooted in Nature" menu that placed vegetables at the forefront without sacrificing taste and pleasure.
Guided by these values, Shangri-La Paris is hosting a series of "100% Green Dinners" – a first in the world of Parisian palace hotels. On the first Thursday of each month, Shangri-La's La Bauhinia will present a special five-course vegetable-focused menu and invite one of the hotel's exceptional French market purveyors to meet with diners. To further enhance the evening, La Bauhinia will be transformed by a
nature-inspired decor.
"The chef will create each Thursday a different green menu full of vibrant and complex flavours such as Tomato Bloody Mary and Spring Rolls made from watermelon stuffed with soup herbs; Kasha and Green Vegetables En Cocotte with almond milk; Turnips and Red Beetroots roasted in a wood-burning oven and Tofu Ravioli with borsch vinaigrette; Strawberries scented with Sangria, and coconut and lime sorbet," explained Shangri-La Hotel, Paris in a statement.
To accompany this green menu, Head Sommelier Cédric Maupoint has chosen wines produced through biodynamic agriculture, specific teas, coffees and non-roasted cocoa beans, all hand-picked and distributed through fair-trade channels.
Upcoming dates are Thursday, 9 July, and then the first Thursday of each month from September to December.