The JW Marriott Hotels & Resorts brand opens second hotel in Mexico City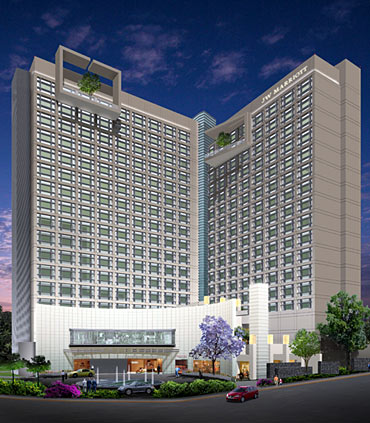 The much anticipated 221-room JW Marriott Mexico City Santa Fe opened its doors. Marriott International is confident that this new hotel will become a landmark in Mexico City.
JW Marriott Mexico City Santa Fe hotel is located in the upscale Santa Fe residential neighborhood and is walking distance to plenty of entertainment, great shopping and large international office complexes.
For dining and recreation at the JW Marriott Mexico City Santa Fe, the hotel features two restaurants; Quattro, an authentic Italian menu inspired by the Piamonte region of Italy; and Cua, an organic Mexican fine dining restaurant with fusion flavors from Mediterranean, Asian and Latin American cuisine. The hotel will also feature a lobby bar, 24 hour room service and an executive lounge open 24 hours that is available for guests staying in executive level rooms. To ensure the guests' relaxation and fitness, the hotel offers a full state of the art fitness center and will feature the Oriental Wellness Spa with five treatment rooms, saunas, vapor rooms, Jacuzzis and a meditation area.
"Mexico remains one of the most vibrant countries for new development in all of Latin America," said Rob Steigerwald, Chief Operations Officer for the Southern Americas at Marriott International. "We are thrilled to partner with Grupo Diestra on this project, and reveal our second world class JW Marriott luxury brand hotel to Mexico City."
The 221 rooms and suites will all include High speed internet, 42" plasma TV, alarm clock with iPod/iPad docking station, Wireless telephone with voicemail, Nespresso coffee machine and aromatherapy bathroom amenities.