A wild safari and a trip of a lifetime. Sanctuary Kichakani Serengeti Camp will open on 2 December 2017 in the Southern Serengeti and will replace Sanctuary Retreats' current Sanctuary Migration Camp offering. The camp will be located in Southern Serengeti (2 December 2017 – 31 March 2018), Central Serengeti (1 June 2018 – 15 July 2018), and Northern Serengeti (29 July 2018 – 15 November 2018).
In December 2017, Sanctuary Retreats launched the exclusive new Sanctuary Kichakani Serengeti Camp in Tanzania which  promises to bring back the charm of centuries-ago safari living. The key features include 10 new classic safari tents raised on  wooden platforms, each with private deck and ensuite bathroom, new grand central tent, with lounge and dining wings, gym and yoga kits in all rooms, and three set locations throughout the year, based on the annual migration path.
Being a part of Kichakani — translating from Swahili as 'in the bush' — means staying in remarkable luxury tents which can be  packed up and moved along in a style evocative of the pioneering explorers of the 19th century, yet with all the modern comforts.  Handcrafted luggage, easy chairs with an air of mid-century modern, and characterful cabinets and desks, have all been designed to be perfectly portable.
Sanctuary Kichakani Serengeti Camp's three set locations throughout the year are based on the natural migration path offering wildlife viewing from open plains, sweeping grasslands and rocky kopjes. The stars of this seasonal path are wildebeest, zebra, Thomson's gazelles, and the predators that this migratory journey attracts. The Serengeti is known for having the Big Five; cheetahs are a highlight, along with wild dog, giraffe, waterbuck and impala.
An elegant contemporary take on the classic campaign look.
Sanctuary Kichakani Serengeti Camp will offer accommodation under canvas with 10 new five-star tents. Each tent has a wooden deck perfect for pausing for a just-brewed cup of Tanzania's finest coffee, and ensuite bathrooms feature authentic bucket showers. A personal tent attendant is available around the clock to fill each bucket shower to the perfect temperature. According to the developer, thanks to the on-the-go nature of the whole sand-coloured canvas-constructed camp, there is little impact on the environment, casting a lighter ecological shadow.
The new camp will also feature a grand central canopied area where the main tent flows into lounges and dining wings. The high-end tents can be open on the sides to reveal the soul-stirring landscape. Savour international flavours alongside kachumbari (traditional Tanzanian salsa), coconut beans, paprika, cinnamon, chilli from nearby Zanzibar. Evenings can be spent gathered by the traditional fire pit and exchanging stories under starry skies.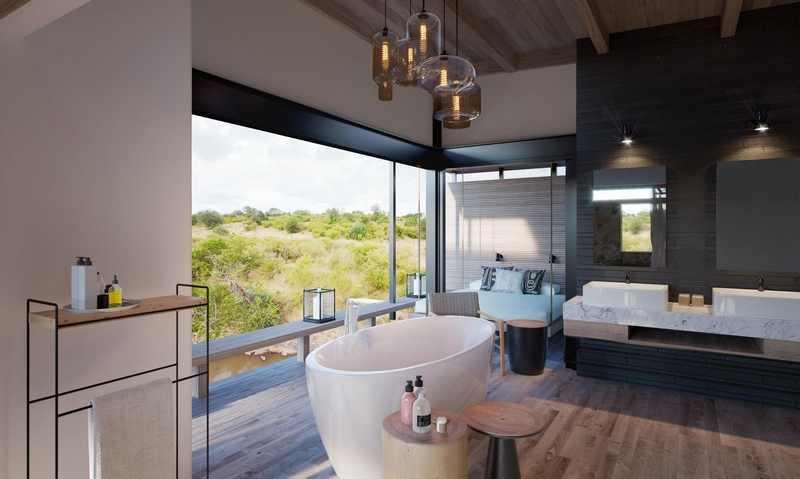 Re-imagining Sanctuary Olonana
In June 2018 Sanctuary Olonana will relaunch as a luxury lodge with an impressive showcase of modern design blended with distinct traditional African finishes.
Sanctuary Olonana is set in lush woodland on the banks of the Mara River in the Masai Mara, where the great outdoors is invited indoors with 14 new glass-sided suites. Famous for soul-warming service and exceptional customer experience, it is already regarded as one of the top safari properties in Africa, having recently been named the best resort in Africa in Condé Nast Traveler's 2017 Readers' Choice Awards.