Smoking a piece of 200 years of Royal Danish history.The exclusive short torpedo QUEENS #1 with 24 karat Gold & Swarovski crystals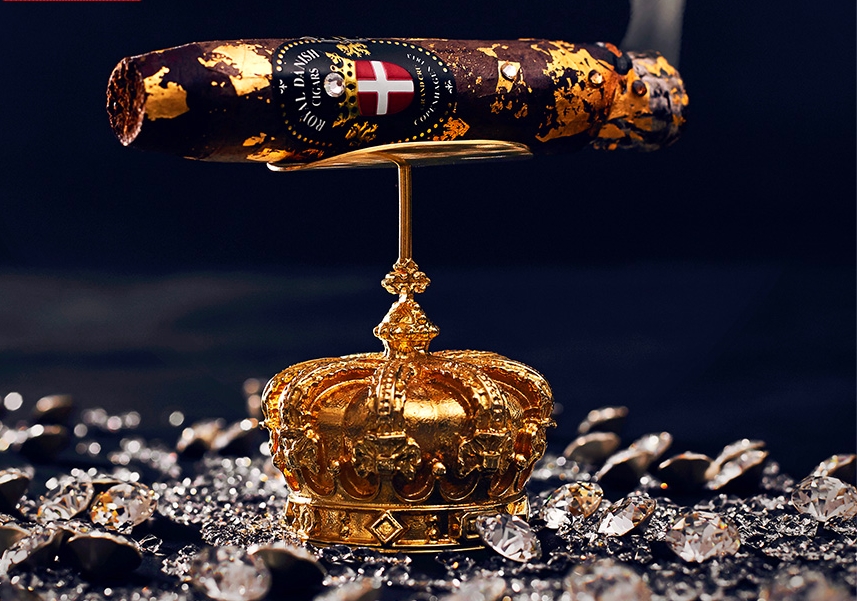 There are not two identical  5″ Torpede Queens 1 Regal Blend cigars by Royal Danish Cigars' . These cigars are based on the original 200-year old aristocratic formula from the time when the Danish West Indies (today US Virgin Islands) were part of the Kingdom of Denmark for 250 years and the King's ships brought back tobacco from the Caribbean to the Royalty.
The cigar comes in an ultra luxury version encrusted with Swarovski crystals and decorated with 24kt gold leaf graffiti. The production is limited to only 30 cigars per day due to the extensive and time consuming cigar art work done by Jan von Vistisen, Cigarmaker & CEO of Royal Danish Cigars. Queens 1 Regal Blend comes with probably the most exclusive cigar gift in the world. The creators of the cigar offer a special designed 24kt gold plated sterling silver royal crown cigar-holder available for USD 3000.
"Smoke Like a King! – My beautiful cigar art is unique and innovative to the worldwide luxury cigar market and have created instant demand from Dubai, Geneva, Moscow and New York" says Jan von Vistisen.
All Regal Blend cigars are numbered and signed by the master roller before they are carefully dressed-up and the Swarovski crystal is mounted in the king's crown on the cigar ring and each beautiful white box with our unique red protection foam inside.
"The Single Blend Vintage Edition comes in black recycled Scandinavian eco-paper tubes, as we see no reason to cut down a beautiful old tree to make a cigar box. Smoke less, but smoke the best, and protect mother earth is the simple philosophy behind our cigars," says Jan von Vistisen.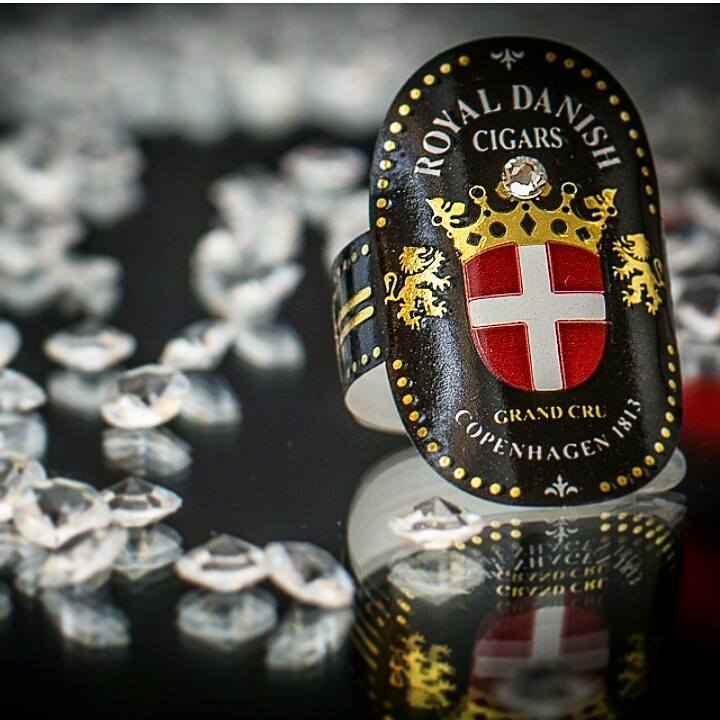 The Regal Blend – QUEENS #1 was Rated 91 on the front-cover of Cigar Journal, July 2014.
Queens 1 Regal Blend is priced at USD 100 and you can buy it at the Davidoff Flagship stores plus online.
Royal Danish Cigars 200 year anniversary collection includes 4 unique blends made according to old Danish traditions: The King of Denmark – Secret Blend, the double ligero Regal Blend – Danish West Indies, the single estate Single Blend Vintage Edition 200 Year Anniversary and our milder Havana Blend.