The newest extreme tourbillon for Rafael Nadal.
Luxury Swiss watch company Richard Mille is celebrating its long term collaboration with the Spanish tennis star Rafael Nadal with a new extreme tourbillon fitted with a brand new, in-house made, hand-wound waterproof tourbillon calibre. Richard Mille Tourbillon RM 27-02 Rafa Nadal watch will only have a production run of 50 pieces.
The bezel and case back are made from NTPT carbon and Quartz TPT, a groundbreaking new material designed and developed by Richard Mille in partnership with North Thin Ply Technology.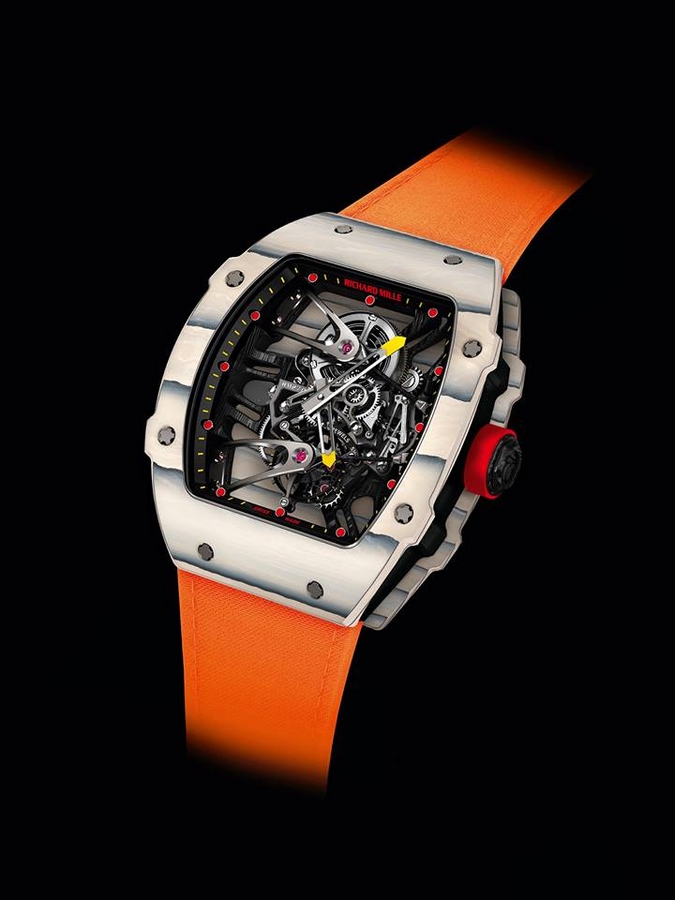 QTPT is composed of over 600 layers of parallel filaments obtained from separating silica threads. These layers, no thicker than 45 microns, are saturated in a white resin developed specially for Richard Mille, then inserted between layers of NTPT carbon using an automatic positioning system that changes the orientation of the fibers between each layer by 45°. It is then heated to 120°C and subjected to a pressure of 6 bars in an autoclave similar to those used to make aeronautical components, before the material is ready for machining on a CNC machine at Proart, Richard Mille's case factory. Machining unveils the various TPT Quartz layers at random, ensuring that each machined component is unique.
"Creating a watch for Rafael, that would become as he says "A second skin" was a tremendous challenge for us. Discovering the outer limits of strength for these new materials, testing such ultra-light tourbillon movements to the extreme acceleration conditions of high level tennis matches and subjecting the carbon composite case to aging processes, sweat and heat was a total nightmare for me and my team in Les Breuleux," explained Richard Mille's officials.