Reuge by MB & F – a music box that looks and sounds out of this world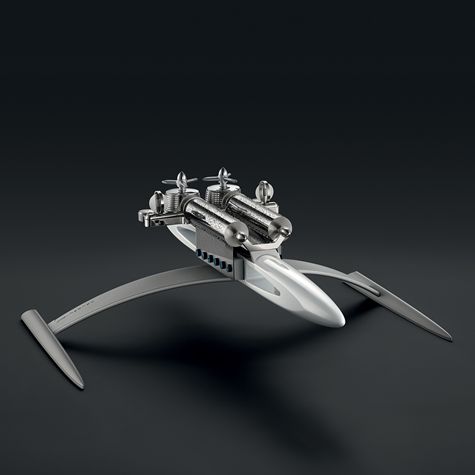 With dual propellers and twin silver cylinders mounted on sleek outrigger landing gear, the MusicMachine looks like a spaceship. The little sci-fi wonder is the child of REUGE, the global manufacturer of luxury music boxes, and MB&F, the award-winning manufacturer of avant-garde, three-dimensional Horological Machines. MusicMachine is a limited edition of 66 pieces: 33 pieces in white and 33 pieces in black (the latter for those with a preference for 'the dark side').
Each of the cylinders on MusicMachine plays three tunes. On the left, "May the Force be with you" with the 'Star Wars' theme, 'Imperial March' from 'The Empire Strikes Back', and the theme from 'Star Trek'. Back on earth, the right cylinder plays Pink Floyd's 'Another Brick in the Wall', Deep Purple's 'Smoke on the Water' and 'John Lennon's 'Imagine'.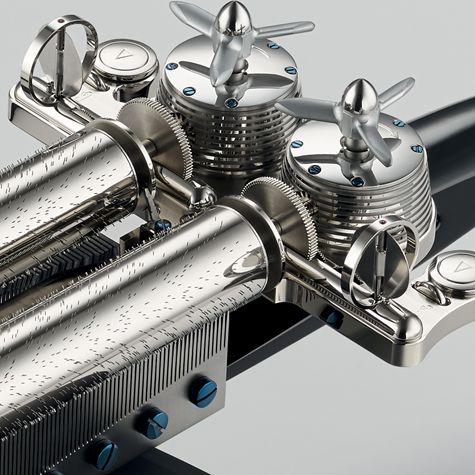 Like many kids, saving the world was my full time job when I was a boy," said Maximilian Büsser, MB&F founder. "For MusicMachine, I delved into my childhood dreams and fantasies inspired by heroes such as Luke Skywalker and Captain James T. Kirk."
One of the biggest challenges for REUGE was respecting the mechanical symmetry of MB&F's design, and it meant breaking with a few music box conventions to achieve it. MusicMachine actually has two independent movements, each comprising: winding propeller; mainspring barrel (looking like a piston under the propeller); horizontal cylinder with pins creating three melodies; and vertical comb with individual hand-tuned teeth sounding each note.
"REUGE is the Jedi master of music boxes. It is incredible how REUGE has been able to turn our design into reality. And that's not even mentioning how good it sounds!" added Maximilian Büsser.
REUGE CEO Kurt Kupper is equally delighted with the outcome of the collaboration: "MB&F came to us with this radical concept and we have shown that, when it comes to high-end music boxes, REUGE will make dreams come true."
Crafted in white or black lacquered walnut, MusicMachine's sleek fuselage amplifies sound transmitted from the brass vibration plate centrally housed within the case. This plate also conducts the vibrations along the curved, lateral struts and outrigger-style landing pods – in bead-blasted, anodised aluminium (black matte-anodised for the black version) – which in turn carry the vibrations down to MusicMachine's landing platform. This lacquered timber platform not only further amplifies the enchanting melodies, but also showcases the spacecraft's aesthetic beauty.