2015 Luxury Timepieces: Christophe Claret Aventicum with 3D effect.
Early 2015 was marked by intense activity at Christophe Claret, one of the few complicated movement manufacturers. In January in Geneva the luxury watch brand presented Aventicum, its latest creation. In early February, Mr. Claret, accompanied by Wolfgang Sickenberg, the brand's CEO, visited Kuala Lumpur, Malaysia to attend a dinner for collectors as a prelude to the opening of the brand's first retail presence in the country. Finally, from February 23 – 28, the Le Locle brand is exhibiting in Doha, Qatar, at the 12th Salon of Watches and Jewellery.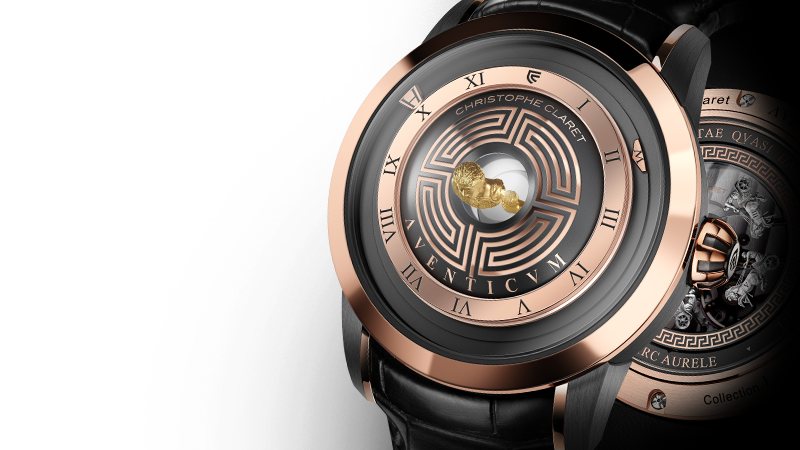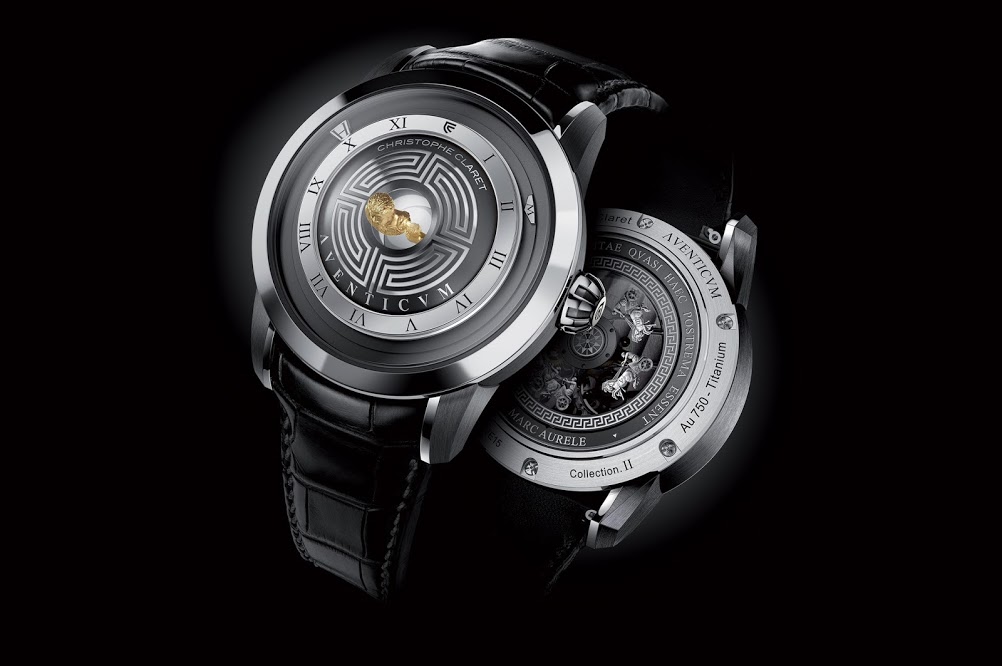 In 2015 Christophe Claret is paying homage to Roman Emperor, Marcus Aurelius with innovative Aventicum timepiece graced with a special gold micro-sculpture inspired by the capital of ancient Roman Helvetia, Aventicum (Avenches, Switzerland). Reinterpreting Haute Horlogerie, the watch is part of Traditional Complication Watch collection which includes Maestro, Kantharos, Soprano, and Adagio pieces.
A micro-engraved gold replica of the Marcus Aurelius bust can be found in the centre of the dial. The faithful, small-scale representation of the Emperor – measuring less than three millimetres – is displayed in magnified form thanks to a clever invention called the mirascope. In implementing this optical effect in Aventicum, the bust of Marcus Aurelius looks as if it is thrusting out of the middle of the watch.
Turning over Christophe Claret Aventicum, the patented, transparent sapphire-winding rotor of the automatic movement can be admired through the display back. The rotor is embellished with five numbered Roman Gaul racing chariots.
Aventicum timepiece is available in two limited editions: 68 pieces in 5N red gold and anthracite PVD-treated, grade 5 titanium; and 38 pieces in palladium-rich white gold and anthracite PVD-treated, grade 5 titanium.
During Baselworld 2015, the Swiss Watch manufacture will present Christophe Claret Allegro, the new traditional complication timepiece.