Crown Royal Regal Apple.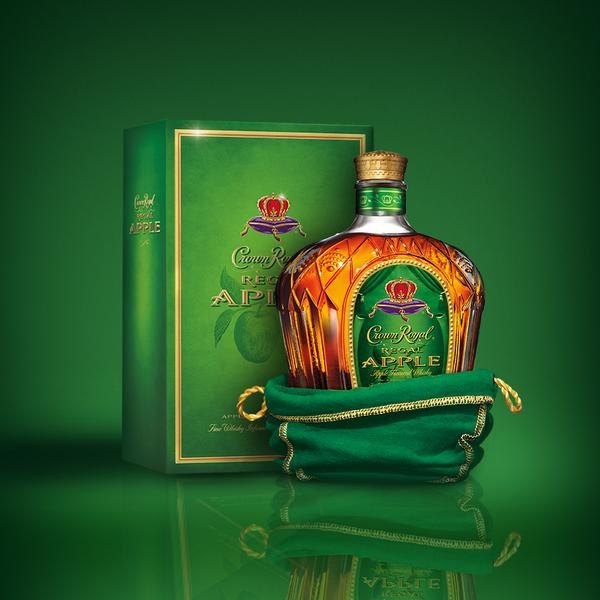 Flavoring whiskies is not a completely outlandish concept. Following the honey-flavored or maple syrup whiskies, Canada's Crown Royal has come out with Crown Royal Regal Apple, an apple-flavored whisky with an extract of fall. The apple extension is a great option for those fun-loving whisky drinkers looking for a high-quality flavored offering from a brand with a history of fine whisky making.
This new whisky comes to life by selecting the raw Regal Gala apples that already contain the desired apple notes. To maintain the essence of the Regal Gala apple, the apples start in a mixture of water and alcohol. The mixture is then distilled and specific selections are collected based on aroma. The aromatic fractions are blended to achieve the resulting apple flavor characteristics of the Regal Gala apple. The 70 proof (35% ABV) whisky opens with a slightly tart, crisp, apple flavor balanced with signature Crown Royal whisky with notes of caramel and light spice. The blend creates the ideal balance of flavor and whisky, finishing on a crisp apple note with balanced sweetness, culminating in a full-bodied smooth finish.
"Crown Royal always strives to appeal to our consumers' evolving tastes to create innovative expressions worthy of their enthusiasm for this historic whisky," said Yvonne Briese, vice president of marketing, Diageo North American Whiskey. "We are thrilled to release Crown Royal Regal Apple which delivers on the signature smoothness, quality and tradition consumers have come to know and love from Crown Royal."
Crown Royal Regal Apple is best enjoyed as a chilled shot, on the rocks or in a classic cocktail.