"Profumum Roma – An unconventional World" at Bucharest's Elysee Maison des Parfums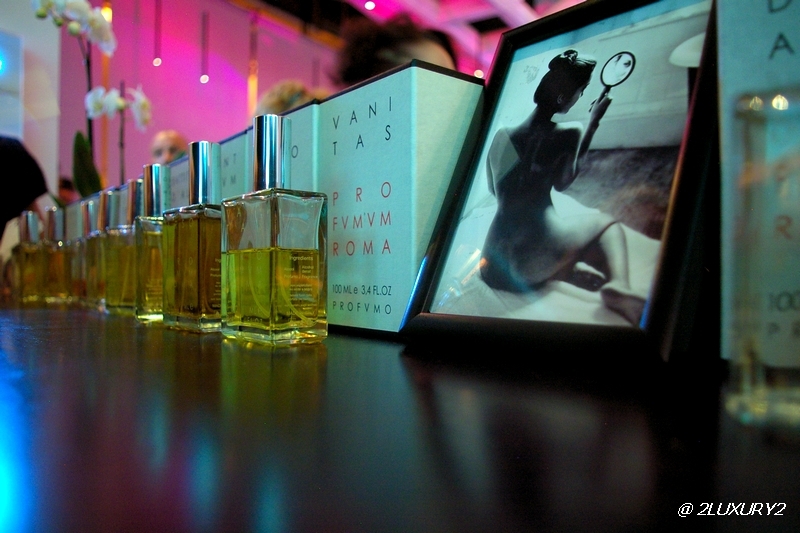 Luciano and Maria Durante, some of the world's most innovative artisan perfumers and representatives of Profumum Roma artistic perfume house, visited for the first time Romania and Eastern Europe at the invitation of Elysee Concept Maison des Parfums in Bucharest.
Maria and Luciano Durante represent a family of artists that revolutionized the creative niche of artisanal scents. In order to ensure the quality of ingredients and the right mix of the best natural and derivative raw materials, Profumum Rome has its own plantations with rare items. Rome Profumum fragrances are made in limited series and have one of the highest concentrations and therefore the greatest persistence. The very high percentage of essences has as a consequence a higher concentration of oil on the skin.
Luciano Durante told us that the creation of a perfume lasts indefinitely and is similar to any other artistic act, being accompanied by genuine "torments of creation". Often the trigger is an idea inspired by a dream, a trip, a local ingredient or a thought. Often you have to wait to unlock the inspiration, and then all come by itself to give rise to new olfactory masterpieces.
After an introduction in the innovation, history and unconventional perfumes signed Profumum Roma, the Durantes were at the disposal of enthusiasts for an autograph session, olfactory profiles and discussions with all the fans interested in the story of these scents that are pleasantly chasing those who wear them and are more evocative than a picture or photo. As the Durantes artisans recognize it, Profumum Rome triggers sensations, emotions, desires, deja vu's, uncontrollable passions and olfactory "hallucinations" that takes you to unrepeatable bien-etre moments.
The beauty and power of these perfumes resided in the ability to carry you effortlessly to unknown new place, but yet so familiar. Buon viaggio!
Details:
profumum.com/
YouTube Elysee Concept Channel
elyseeconcept.ro